Have you ever experienced a drive that takes you from awe-inspiring vistas to serene lakes, all while keeping the rugged beauty of the mountains as your constant companion? If not, it's time to embark on the 42-mile Scenic Loop Drive through Grand Teton National Park.
As you begin your journey, the breathtaking views unfold before your eyes. Snow-capped peaks rise majestically against the vivid blue sky. Aspen trees with their golden leaves and white trunks surround the meandering river, painting a picturesque scene that is ideal for postcard-quality photos.
This is just the beginning of your adventure, and the awe-inspiring vistas will soon become a delightful norm.
The Ultimate Grand Teton Drive
The 42-mile Scenic Loop Drive is the ultimate way to experience Grand Teton National Park's splendor. The craggy peaks of the Grand Tetons loom dramatically along the way, while pristine lakes provide the ideal backdrop for the most breathtaking mountain views. In fact, most of the park's top ten views are conveniently situated along this scenic drive.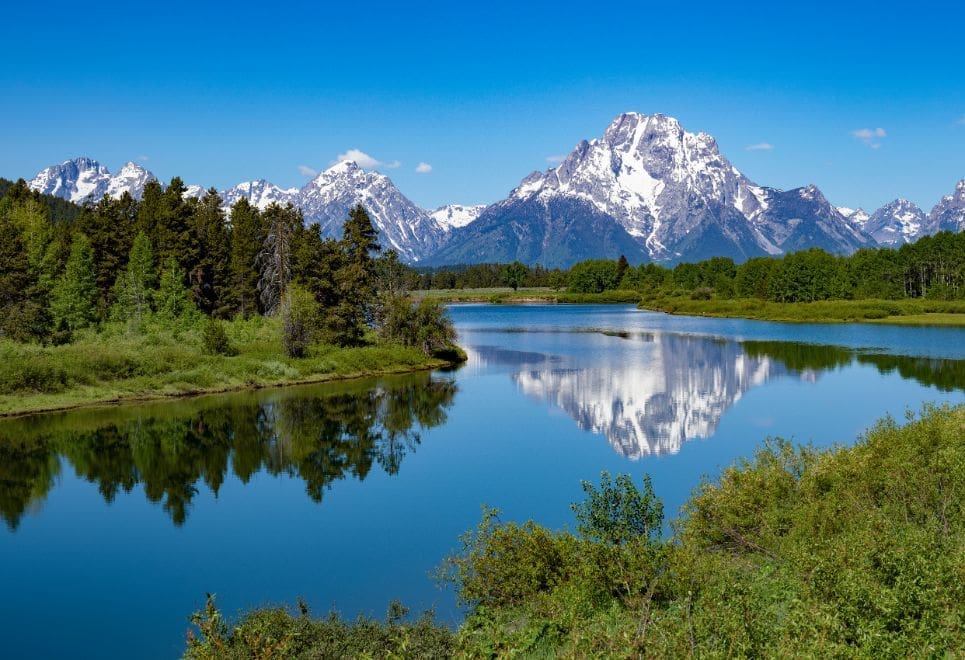 Inner and Outer Roads
There are two primary scenic routes in Grand Teton National Park: the inner road and the outer road. The Grand Teton Loop Drive combines both, offering an unrivaled experience. It starts along Teton Park Road, which runs parallel to the mountains inside the park, providing close encounters with nature's beauty. Then, the route loops around, following US 26, which, although a bit farther from the mountains, still offers incredible views.
While the entire 42-mile scenic drive through Grand Teton National Park officially takes around 1 to 2 hours to complete, expect to spend much more time. Why? Because there are countless opportunities to stop and soak up the mesmerizing scenery. From observing wildlife to capturing postcard-perfect moments, each turn reveals something new.
Where to Begin
You can access this scenic drive from three different points. If you're approaching from the south, start at Moose Junction. Coming from Yellowstone in the north, your journey begins at Jackson Lake Junction. Lastly, if you're arriving from the east via Togwotee Pass, enter at Moran Junction.
So, whether you're a nature enthusiast, a photography buff, or simply someone seeking an unforgettable road trip, the 42-mile Scenic Loop Drive in Grand Teton National Park promises an experience that will leave you in awe of the natural wonders that grace this remarkable landscape.
Don't forget to grab a Grand Teton National Park map to ensure you don't miss any of the breathtaking stops along the way.
Essential Travel Guide: