San Francisco is a fantastic travel destination, jam-packed with famous landmarks and iconic visuals, especially film buffs. But which ones are worth visiting on your San Francisco tour? Here are seven of my favorite attractions on the San Francisco tour, which you might have seen on the silver screen!
The Painted Ladies
Nobody can resist taking a picture of "Postcard Row"–– a set of seven picturesque houses painted in bright pastels.

The loud, clashing colors are a remnant of the late 19th century. Back then, companies were beginning to mass-produce brightly-colored dye. This paint was a fashion statement AND a status symbol!
The Painted Ladies have appeared in over 70 movies and television shows, most famously in the opening credits of the sitcom Full House.
(They're also the starting point for this self-guided San Francisco tour!)
City Hall
Speaking of popular filming locations, you won't want to miss Hollywood's famous DC double! San Francisco City Hall looks like the Capitol Building in Washington, and movie directors have used it as a convincing fake for decades.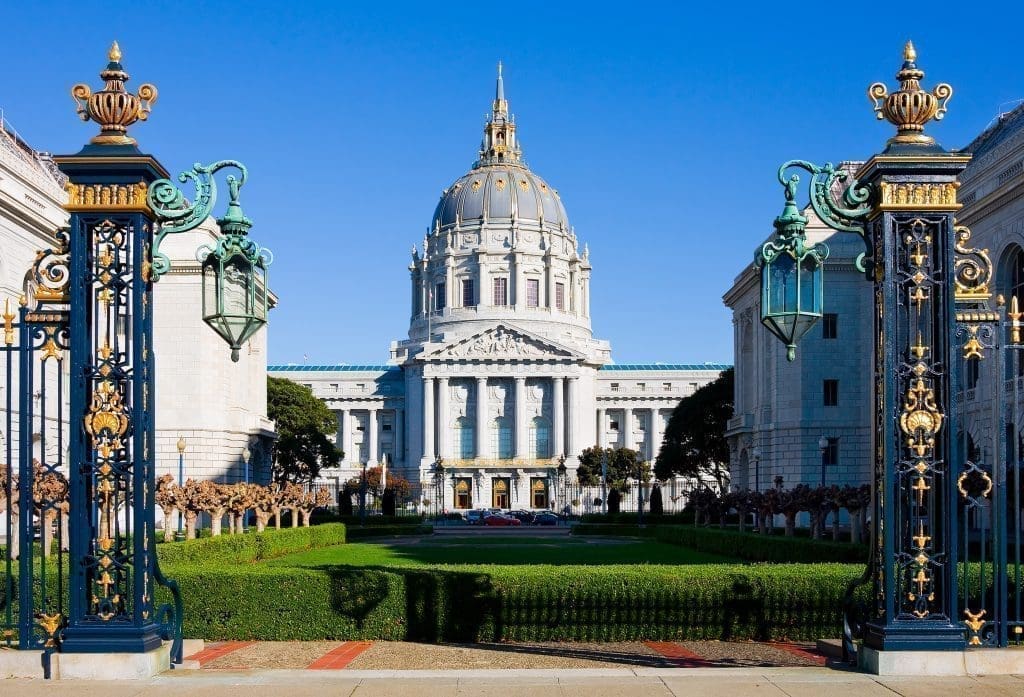 You can see it in films like Raiders of the Lost Ark, Invasion of the Body Snatchers, and the James Bond thriller, A View to Kill.
Lombard Street
A San Francisco tour is never complete without a visit to Lombard Street! The terrain is too steep to safely drive downhill, so city planners found a creative solution. This one-block incorporates EIGHT hairpin turns to mitigate the severe slope. The result is a snake-shaped road that looks like it comes right out of a cartoon.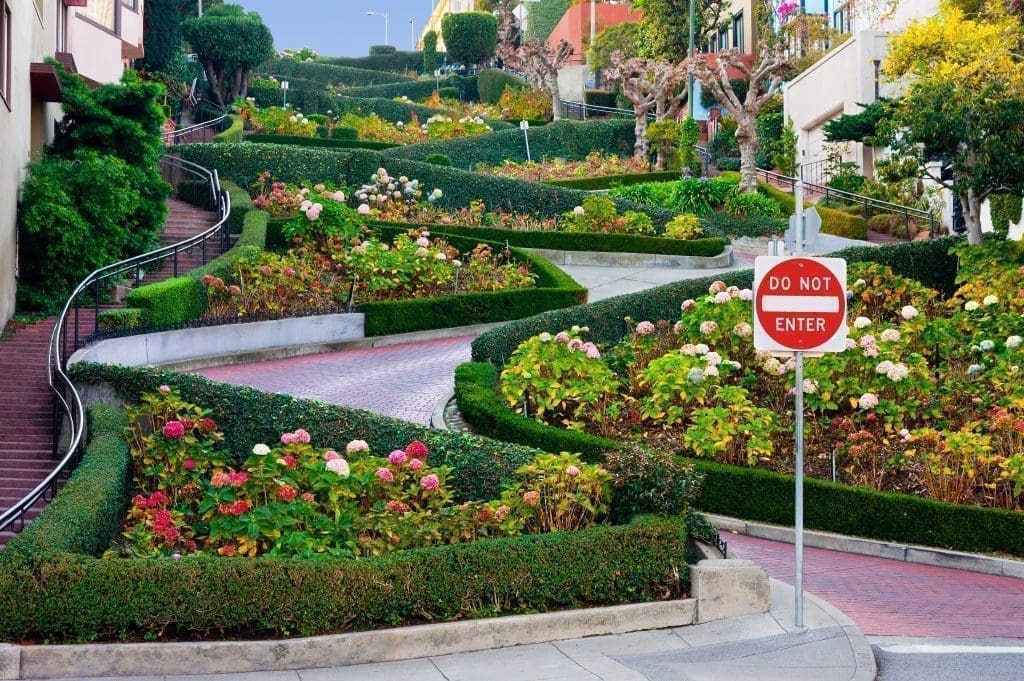 The street's unique shape makes it SUPER fun to use in Hollywood car chase scenes. Look for it in movies like Magnum Force and Marvel's Ant-Man and the Wasp. Don't count on having your high-speed adventure here, though the speed limit is only 5 miles per hour!
Telegraph Hill
Bring along your good walking shoes for the trek up Telegraph Hill. The high vantage point was once used for trade: a watchtower would use flags to broadcast ships entering the harbor. Today, you can still use this spot to get a bird's eye view of the city!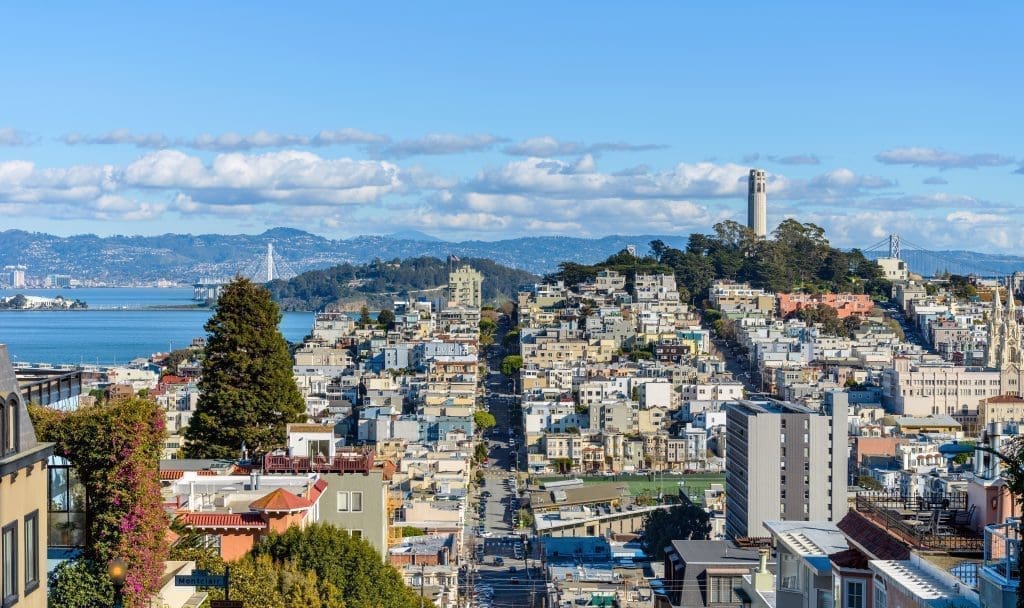 Speaking of birds this street is full of tropical cherry-headed conures! Once imported from Peru as pets, the birds have started their colony here in sunny SF. They even star in their documentary, The Wild Parrots of Telegraph Hill.
Streetcar System
If your feet are getting tired, fear not! San Francisco is home to the last manually-operating streetcar system in the country! Because of the steep hilly terrain, a cable car was historically the safest option to get from one end of town to the other. And they still do their job–– 20,000 passengers use these cars every single day!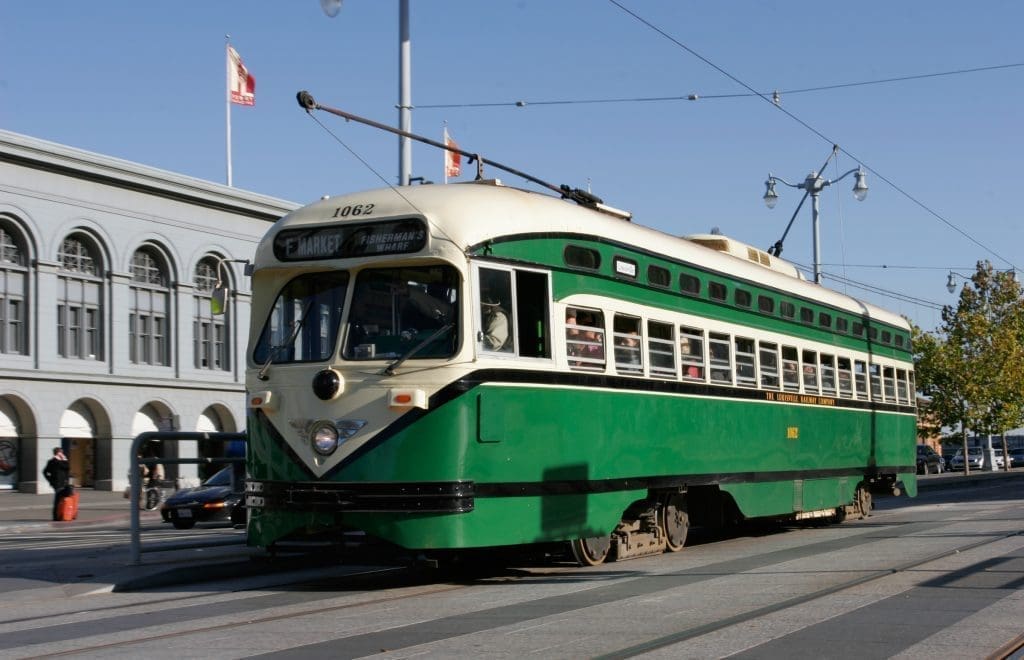 The striking green cars and red roofs are instantly recognizable in dozens of movies, from Humphrey Bogart's 1947 film Dark Passage to the recent comedy classic Mrs. Doubtfire.
Dragon Gate
When planning your San Francisco tour, don't forget about Chinatown! The entrance on Grant Avenue is marked by a paifong, or gateway, called Dragon Gate. Two stone lions guard the entrance: one to protect the city's buildings and one to protect its people. The authentic Chinese architecture is rich with symbolism, from the golden fish representing prosperity to the green tile representing longevity.
Grant Avenue is so synonymous with Chinatown that there's even a whole song about it in the Rodgers and Hammerstein flick, Flower Drum Song.
Alcatraz
The much-mythologized prison island, SF Alcatraz, sits right between the Golden Gate Bridge and Oakland Bay Bridge. Alcatraz operated for a hundred years between the Civil War and the 1960s, but its legacy continues. The idea of an isolated prison island surrounded by impossible waters has captured the pop culture imagination, and so has its most famous escape story.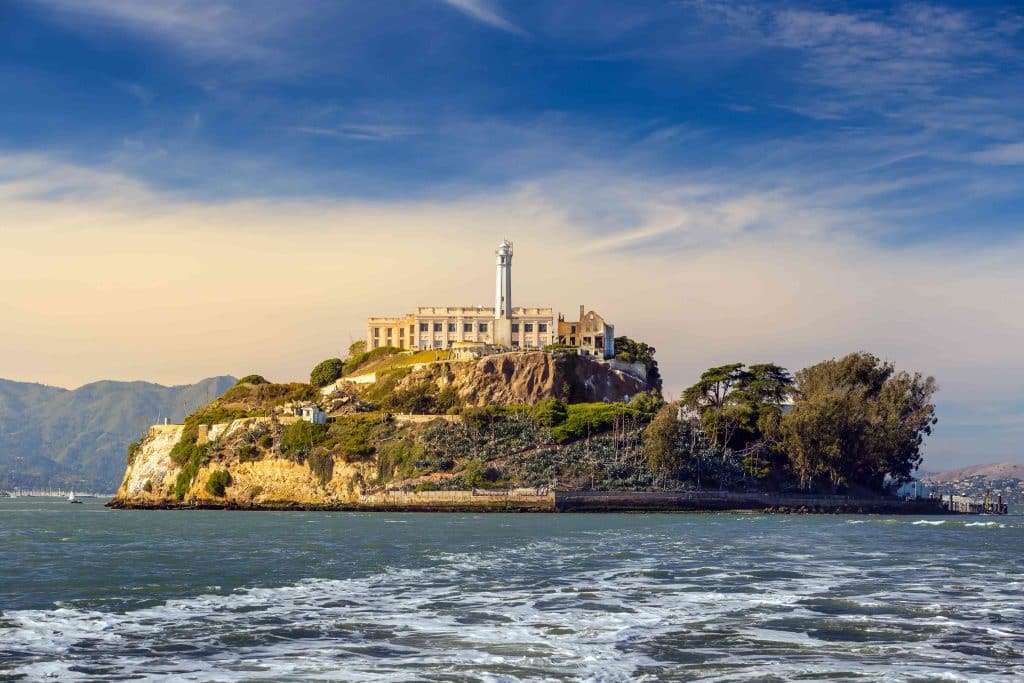 In 1962, three prisoners used metal spoons to dig a tunnel, inflated a raincoat raft with an accordion, and improvised paper-mache heads with soap and toilet paper to buy time before their departure was noticed. You can probably think of many movies that have borrowed elements from this sensational story!
How to Explore San Francisco
Each of these spots is fun to see on its own, but there's a ton of history to learn about each location, too! How can you be sure to learn everything about each of these stops and more? Download Action Tour Guide's self-guided driving tour! Trust me; it's better than a San Francisco bus tour. The GPS-enabled app will tell you about each location as you pass by, allowing you to travel the city at your own pace.
I hope you have a great time in sunny San Francisco! For more tours in California, click here. Also, check out our Hollywood Homes tour.