Before planning to tour Arches, you might be asking yourself: "where is Arches National Park?" It's just 5 miles north of Moab, Utah: a great place to make your base for an Arches and a Canyonlands National Park adventure. Staying in Moab will give you more opportunities to keep the experience going after your tour of Arches.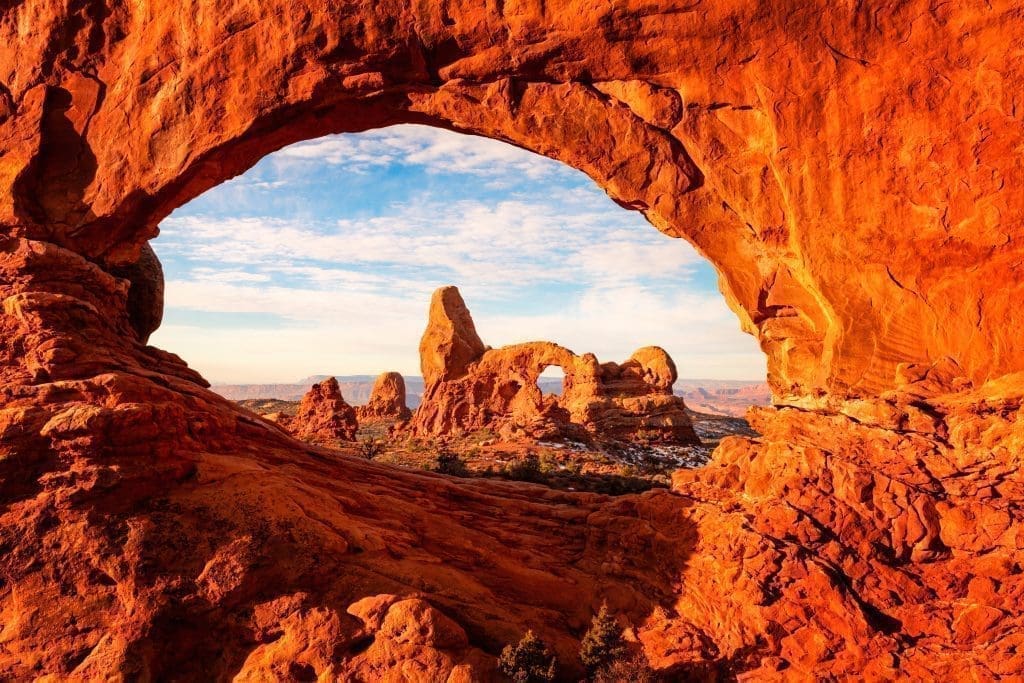 Did you know Moab is a worldwide destination for mountain biking?
The beautiful sandstone landscape that Arches has surrounds this city. So the backdrop while you're biking is some of the best in the whole world! What pushes this experience to a higher level is that Moab has a variety of mountain biking trails ranging from accessible, scenic routes to the famous Slickrock Bike Trail that challenges experienced bikers to put their technical expertise to the test.
But Moab offers more than just a way to extend your Arches vacation. Since Arches National Park is only 119 square miles, it doesn't provide many lodgings. This is a good thing for experiencing a night sky if you manage to reserve a spot in the park's campground. But if you find out that the campground has been all booked up or that you prefer having the comfort and convenience of a room, Moab offers a convenient place to stay the night.
Nearby Parks
You might be wondering, "where is Arches National Park in relation to the other Mighty 5 national parks in Utah?" While Zion and Bryce Canyon are over 250 miles away, and getting to Capitol Reef takes a 2-hour drive, Canyonlands is only a half-hour drive southwest of Arches. Depending on how much time you set aside for your Arches tour, you can easily visit Canyonlands as well. And the best part is that even though these parks are close to each other, they both have very distinct charms. The beautiful, delicate-looking arches of Arches National Park and the vast canyon of Canyonlands National Park give you a lot of variety in the places you'll get to explore!
Additional FAQs:
1) Which is Busier, Arches or Canyonlands?
2) Is it worth visiting Arches National Park?
3) What can you not miss at Arches National Park?