Maui is the second-largest Hawaiian island, and it has plenty of sights to see. The Road to Hana is a visitor's destination in and of itself as the 64.4-mile drive is packed with breathtaking views and a long and exciting history. However, the road to Hana's best stops includes the Rainbow Eucalyptus grove, Twin Falls, and the Waikamoi Ridge Trail, among many others.
Around mile marker seven on the Road to Hana, you will find a grove of eucalyptus trees that look painted on in pastel shades of green, pink, and cerulean. However, these spectacularly speckled trees are all-natural, and the pigment is naturally produced in their bark!
Twin Falls is another of the Road to Hana's best stops. The hike is easily accessed from the Hana highway and leads to two stunning waterfalls and ponds nestled in the Hawaiian Jungle.
Another easily accessed hike from the Road to Hana is the Waikamoi Ridge Trail. Just under a mile, this trail leads to some spectacular sights.
How many waterfalls are located near the Road to Hana?
As you might have noticed, some of the Road to Hana's best stops involve waterfalls. That's because there is more than enough to go around! There are more than 15 waterfalls located along the road to Hana. Some of these waterfalls can be viewed from the street or when you cross over one of the Road to Hana's many bridges. Others, like the Twin Falls, require a short hike to see. However, after spending some time in the car, a quick hike to stretch your legs might be just what you need!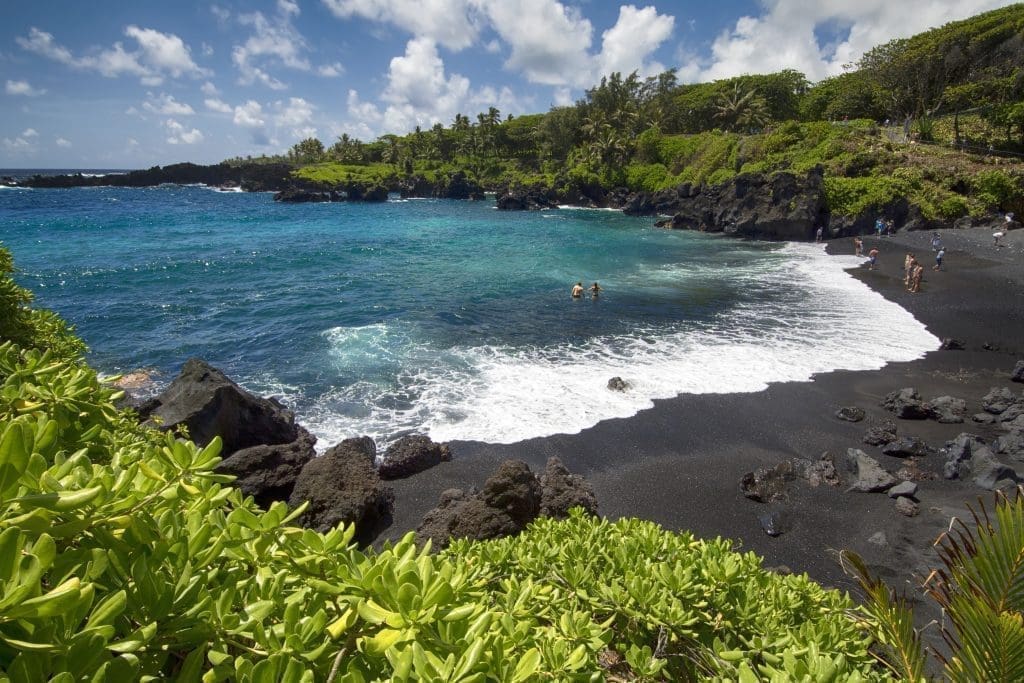 Are there beaches on the Road to Hana?
If you'd instead break up your drive with a visit to a beach, you won't have to look very far. One of the Road to Hana's best stops includes Ho'okipa Beach. This beach is excellent for surfers and sunbathers alike. However, have caution! The waves at this beach are renowned for being powerful, ideal for experienced surfers who want a thrilling ride. Even though the name "ho'okipa" means hospitality, this isn't an invitation to doggy-paddle out into the undertow if you aren't an experienced swimmer or surfer. However, despite the dramatic surf, the beach itself is stunningly beautiful, with light sand and dark rocks contrasting against the lush greenery of the mountains. So if you'd prefer to wade and walk along the beach, this is a perfect place to do so.

Essential Travel Guide: