Planning a trip to Mexico for this year? You're in good company. Tripadvisor just named Cancun as the third most popular vacation destination for 2022. On top of that, Tulum is in the top 5 trending cities for the upcoming year. Why should you visit the Yucatan peninsula, and what do you need to know before your trip? Let's take a look!
1. Check the forecast
Well, first of all, we have to talk about the weather. When you close your eyes and picture "tropical vacation," Cancun is precisely what you see. The city of Cancun is located right on the coast; you're never far from the beach. The area is surrounded by lush trees and fresh fruit like mango, papaya, and watermelon. Between November and April, while the rest of the Northern Hemisphere is in the grips of freezing winter, the climate in Cancun is perfect, with clear skies, cool breezes, and calm waters.
The only drawback to Cancun's coastal location is the presence of tropical storms. Late August to early October is hurricane season for the Gulf of Mexico, so if you see travel and hotel prices take a steep drop during that time, you'll know exactly why.
2. Speaking of hotel prices…
Like any city, hotel prices in Cancun range from simplistic to extravagant. As a huge tourist destination, there's no shortage of options. No matter what kind of place you're looking for, there's the perfect place for you!
The average hotel price per day per person is $66. You can find super basic accommodations for as low as $13 or treat yourself to a fancy all-inclusive waterfront resort for $400. It depends on what you're looking for!
While you're in Cancun, you might as well go all out. To maximize your relaxation, you might consider renting a house instead. Worth it if you want to immerse yourself in that tropical life!
3. See the wonder of the world!
The biggest draw to the Yucatan Peninsula by far is Chichen Itza. The ancient Mayan city is home to one of the world's seven wonders, after all: El Castillo, the Temple to Kukulcan. No doubt you've seen this iconic image a hundred times. It's one of the most photographed landmarks on the planet. But seeing it in person is a whole different experience!
In addition to the legendary Kukulcan temple, you can also see an ancient sports arena, a ceremonial platform, and an observatory that charts the movement of the stars. You will be blown away by the mathematical precision of these ancient buildings, the purely ornamental carvings that make every structure beautiful, and the fantastic frescoes that have remained for over a thousand years. Check out the self-guided walking tour of Chichen Itza to get the inside intel on all the history, culture, religion, and architecture of the ancient Mayan empire.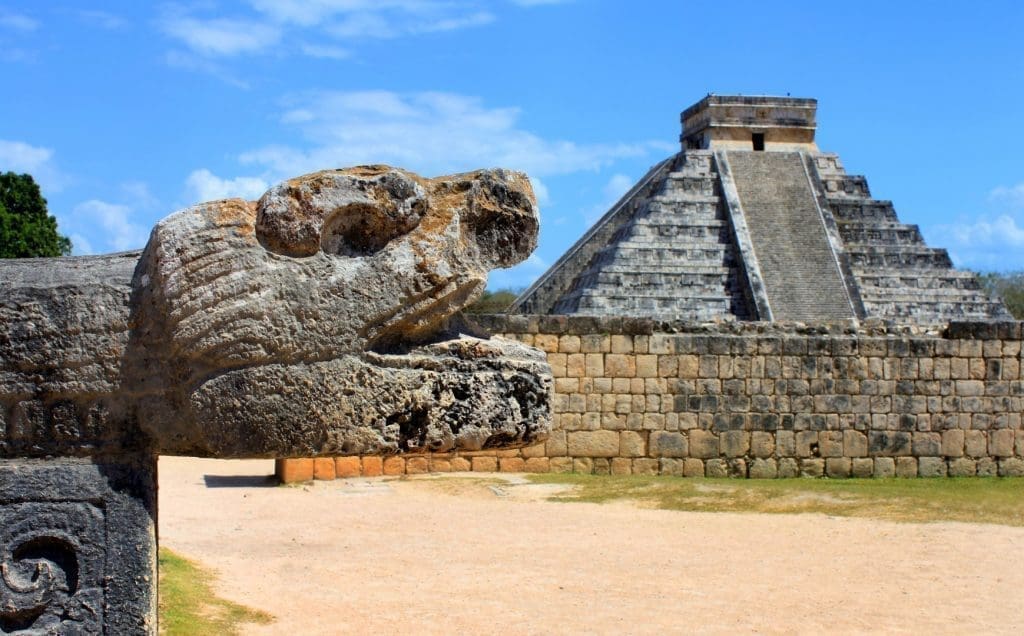 Currently, admission to the Chichen Itza site is $26 for adults and $4 for children under 12. You can order online to skip the queue at the ticket booth for an additional fee!
4. But there's even more!
But did you know that there are WAY more Mayan ruins to see in the Cancun area? Ek Balam, Tulum, and Chichen Itza are all excellent in their own right. Each of these ancient cities is about 2 hours from Cancun. Chichen Itza and Ek Balam are inland to the west, and Tulum is found along the coast to the south.
Ek Balam, in particular, is an underrated gem. It's been historically overshadowed by its much more famous counterpart, Chichen Itza, but there's so much to see here too! The largest vertical Mayan structure on the Yucatan peninsula is the Acropolis. The pyramid is 100 feet tall and features six levels. The top-level tomb is dedicated to a beloved Mayan king from the 8th century. He was so beloved that he was buried with a funeral offering of seven thousand valuable objects, all crafted from shell, bone, jade, and pyrite when he died. Indeed, this is a jewel of the Mayan empire, NOT to be missed! It's worth the day trip to take a walking tour of Ek Balam.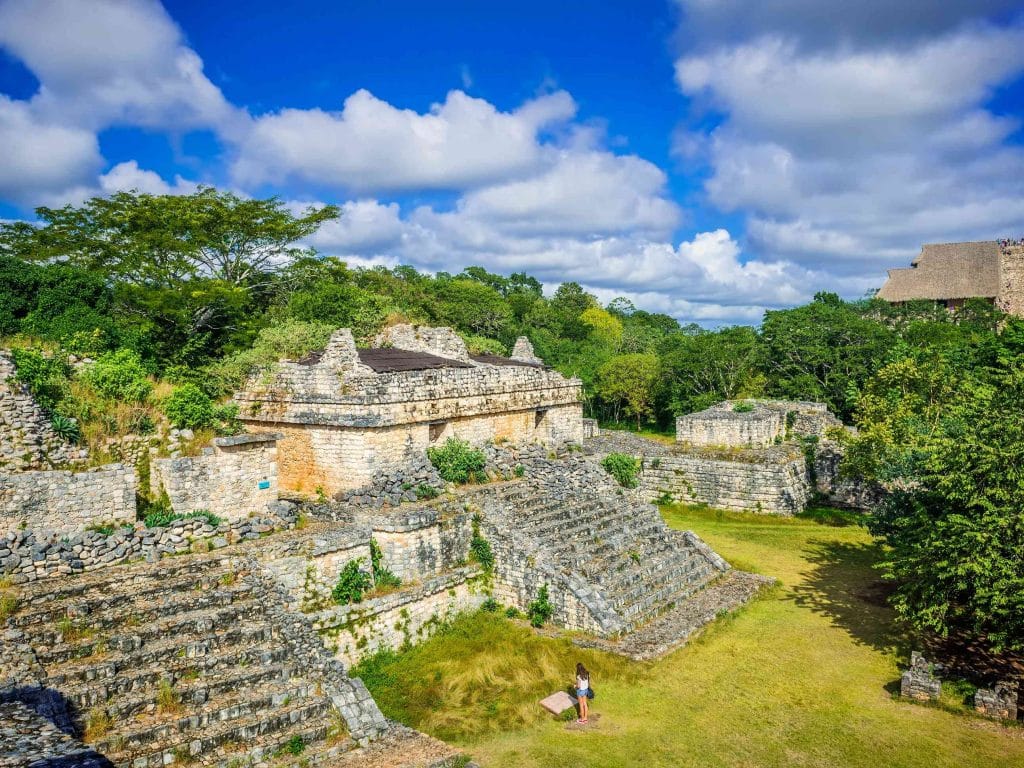 Ek Balam tickets are currently listed at $22 per person and are worth every penny.
5. Don't underestimate Tulum!
Now let's talk about Tulum. For decades, Cancun has been an established vacation destination, but Tulum is a recent up-and-comer.
In the 1990s, locals noticed how much traffic was brought in by Tulum's ancient ruins. They decided to add amenities to make tourists more comfortable and encourage them to stay longer. Today, Tulum is filled with hotels, restaurants, bars, and boutiques. It makes the trip even more worthwhile. By day, explore the ruins; enjoy life at a relaxing beachside resort by night.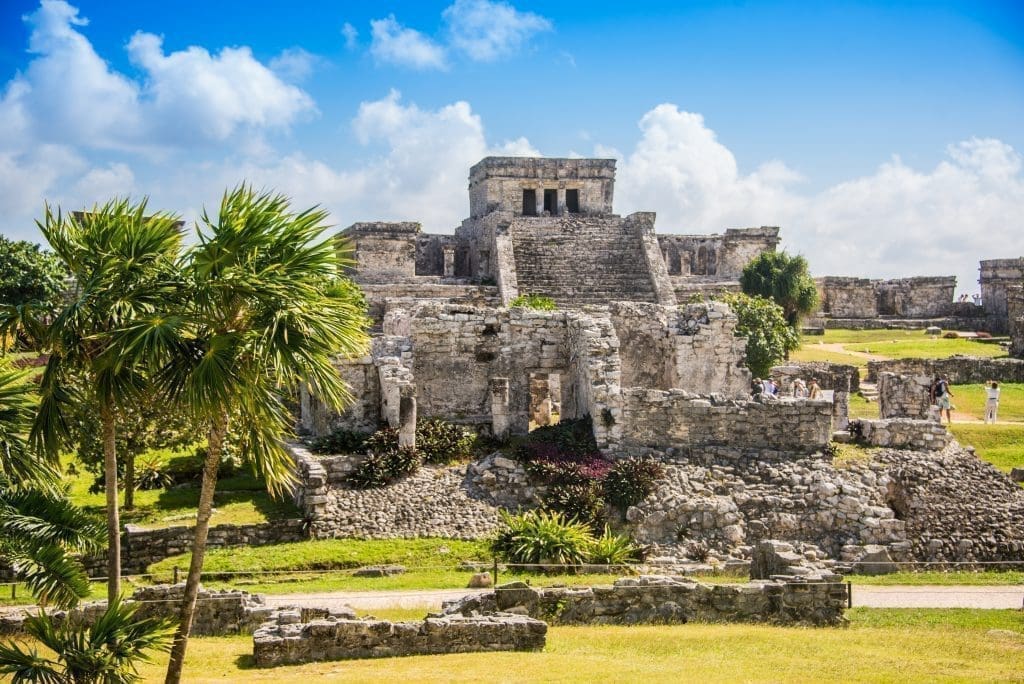 If you spend the night, you can expect hotel prices in Tulum to be similar to those of Cancun.
6. That's right: even more Mayan ruins.
But like I said, The whole reason Tulum (the beach resort) exists is because of Tulum (the ancient Mayan city). It's worth the trip. Tulum was a port city, a gateway between the Mayan empire and the rest of the world. It's incredible to imagine what kind of commercial trading hub this was a thousand years ago. Just like the other Mayan sites, I recommend downloading and affordable walking tour so that you can easily listen to all the information while you make your way through the site.
When you order your tickets online, you can get fast-tracked access to the Tulum Ruins plus a tequila tasting for just $16.
7. How to get from Cancun to the other sites:
How do you get to these places? There are a few ways to get to the Mayan ruins sites from the Cancun airport. The cheapest option is by public bus, which will run you about $15 per seat. The airport also has shuttle services and taxis available. However, I recommend renting a car. It can get slightly more expensive, but it offers you the most freedom to explore the peninsula at your speed.
No matter how you travel, the journey is magical in and of itself. You're constantly surrounded by a tropical jungle where everything seems magical. Making the drive from Cancun to Tulum lets you follow along the Gulf Coast. The beautiful blue Caribbean Sea is always a refreshing view!
8. Should I go to Cancun or Tulum?
You should do both! There's so much that makes each city valuable and unique. And all of these sites we have talked about are located within a two-hour drive of each other. It's worth it to maximize your vacation.
Want to explore all the Mayan ruins you possibly can? You can get a bundle of self-guided walking tours on the Yucatan peninsula for just $14.99. That's a LOT less expensive than reserving tickets for a group tour and helps you plan your vacation on your schedule.
So, there you have it! Cancun and Tulum are the hottest vacation destinations for 2022. And now you have everything you need to see for yourself! Have a fabulous trip!