Tours of Arches National Park generally take 2 to 4 hours. It all depends on what kind of tour you want to take! Organized bus tours tend to take longer than tours like Action Tour Guide's Self-Guided Arches Park Tour. But that doesn't mean that the bus tours have more stops. Bus tours have to cater to a large group of people, so some of that time ends up going toward loading and unloading the bus and sticking around at hikes and views that you might typically take less time with.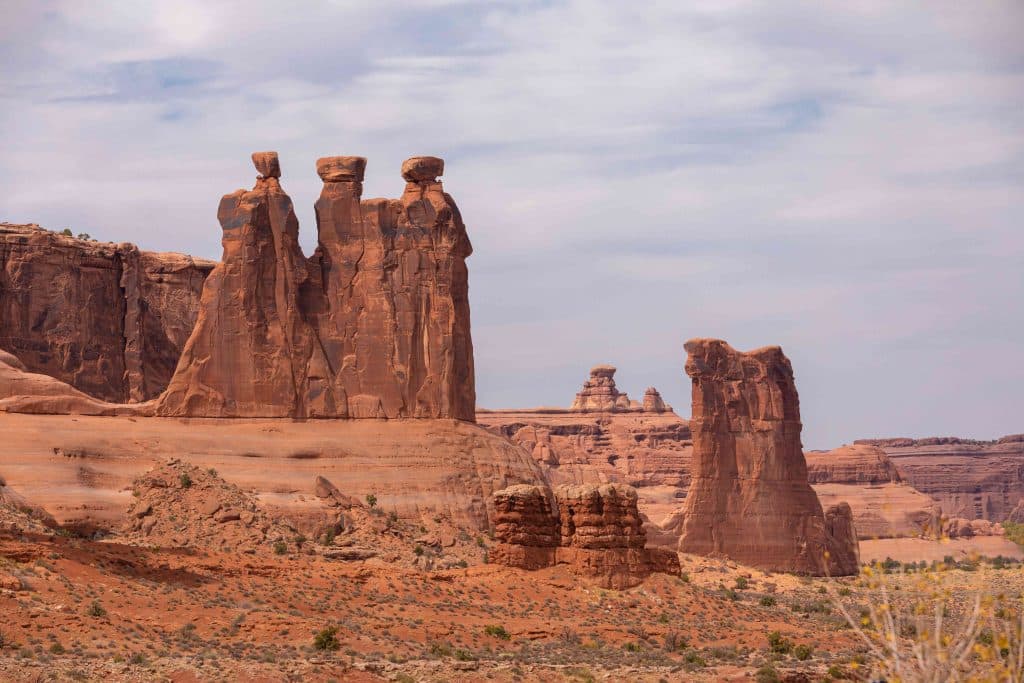 But while bus tours take a set amount of time, self-guided tours allow you to be in charge of how long you take. This Arches park tour uses GPS technology to activate the tour's narration. That means that you can explore the park at your own pace without worrying that the tour will go on without you. The tour also suggests different trails. Depending on your ability and mood, you can choose to hike them or keep on driving.
Hiking to Delicate Arch
If you're short on time and can only choose to do one hike, pick this one. Delicate Arch is the natural, free-standing arch that's not only used as a symbol for this park but all of Utah! The hike is 3 miles round trip, but it often takes people 2 to 3 hours to finish it. Why? Well, for starters, Delicate Arch only became an icon because it's truly stunning. Even tho you've likely seen dozens of pictures of it, seeing it in person is a different story. Many people take their time soaking in the views before heading back down the trail.
But the hike to Delicate Arch isn't a leisurely scenic stroll! This trail takes you over steep Slickrock and near drop-offs. If you're in good shape, you can tackle this trail in close to 2 hours. But if you're not as strong as a hiker, expect it to take closer to 3 hours. Either way, make sure you bring at least 2 quarts of water per person and avoid hiking during the heat of the day; this trail doesn't have any shade!
Arches Park Tour
Taking a self-guided Arches park tour gives you the unique opportunity to learn all about the park as you're driving thru it.
Additional FAQs:
1) Where is Arches National Park?
2) Is it worth visiting Arches National Park?
3) Which is better: Bryce Canyon or Arches?