The Grand Canyon is one of the best national parks to bring dogs! While many only allow dogs in parking areas and campgrounds, the Grand Canyon's popular South Rim is almost entirely open to your canine. So it's easy to enrich your adventure with a Grand Canyon tour like this one, as most tours focus on the South Rim.
Basic Guidelines
Dogs have to be on a leash that's 6 feet or less no matter where they are in the park. At the South Rim, dogs can enjoy visiting developed areas, Mather Campground, Desert View Campground, Trailer Village, and even trails that stay above the rim. But know that dogs can't go on shuttles and can't be left alone – even in your car. And when your dog poops, it's even more important than usual that you properly take care of it and throw the waste into the nearest trash can. National parks are meant to preserve natural ecosystems, after all.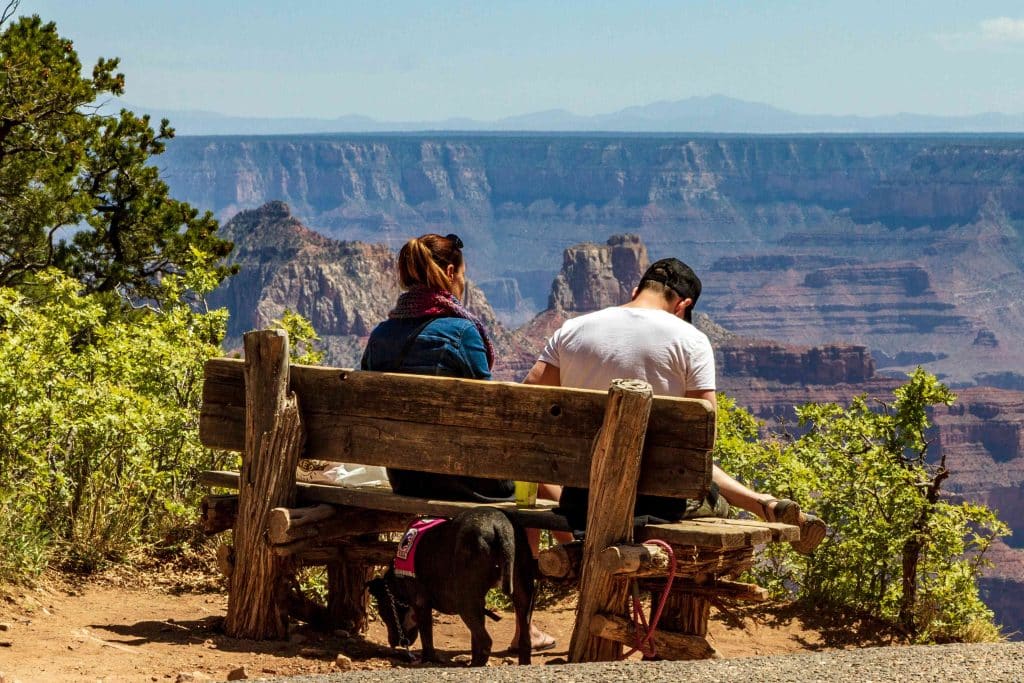 Park Tips
If you're looking to stay in the park and aren't a fan of camping, try checking into the Yavapai Lodge and staying in one of their pet-friendly rooms.
And if you have dreams of going into the inner canyon, you still can! The South Rim has a kennel that accepts dogs and cats. If that sounds like something you'd use, make sure your dog is up to date with the DHLP, bordetella, parvo, and rabies vaccines and that you have proof of it. It's also good to make reservations for the kennel in advance.
Because the park's South Rim sits at 7,000 feet, the elevation can affect your dog. If your dog isn't in peak shape or is on the older side, it may end up being more affected by the altitude and have shortness of breath. Using a stroller is an excellent way to help them out while still being able to explore the park's beautiful South Rim. And the park's heat can pack a punch too. Remember to carry a lot of water for you and your dog, and avoid walking them in the afternoon when their paws can get hurt by the hot pavement.
Grand Canyon Tour
One of the best park activities you can do with your dog is a self-guided Grand Canyon tour. You'll be able to learn about the Grand Canyon's history as you travel through the park. It's a sure-fire way to add more depth to your adventure. And not only that, but since you're in charge of the tour if you or your furry friend need to take a break or want to grab a bite to eat – you can.