While you might not be able to walk everywhere in Washington on foot, you probably won't need a car, especially in the center where most Washington DC tours take place. Washington is a relatively small city, and unlike many American urban centers, its public transportation system is pretty robust. That means you can quickly get in and out of downtown Washington without a car, and you'll be able to walk once you make it there. The only reason you'd need to rent a car in Washington is if you wanted to visit somewhere nearby, like the Civil War battlefields in southern Pennsylvania or Maryland.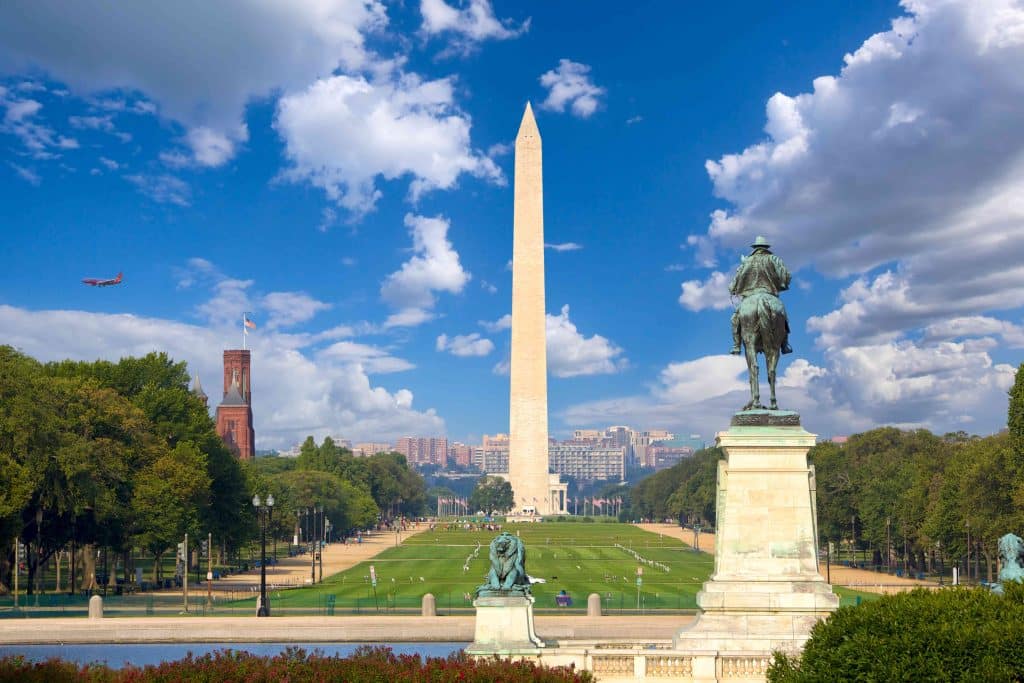 Unlike most American cities, Washington was designed with pedestrians in mind. That means wide sidewalks, safe intersections, and well-placed clusters of attractions. Although cars are allowed throughout most parts of this district that has become increasingly populated over time, many streets have been reserved exclusively for pedestrians This allows them to explore without worrying about traffic noise or other distractions interrupting their sightseeing experience as they admire historic buildings or statues around town. If you'd rather go a little faster, the city also features a ton of conveniently-placed bike and scooter rental options, either through an app or an actual rental place. The city's layout is incredibly convenient for tourists, with the most exciting attractions placed right near one another on or around the National Mall. Anything further away can be easily accessed through Washington's subway system, which is ranked as the best in the country, even beating out New York.
The benefits of taking a walk in Washington DC
Taking a walking tour of Washington DC is the perfect way to get to know more about the nation's capital. By setting out on foot, visitors and residents alike can explore all that Washington DC has to offer while taking in the sights and sounds of this great city. Walking around Washington DC also provides several other advantages – such as enjoying its many attractions and landmarks without having to wait in line or deal with large crowds, as well as discovering hidden gems that may otherwise be missed when traveling by car or train. Strolling through its streets allows you to appreciate the unique beauty of this historic city at your own pace, which makes for an unforgettable experience no matter what time of year you visit.
Take a walking tour of Washington DC
If you're still wondering if you really can walk everywhere in Washington DC, the answer is YES. You can experience the nation's capital on foot in many ways. Taking a walking tour is one such way! With so much to experience, from historical buildings and monuments to parks and nature trails, it is easy to get overwhelmed by the sheer number of possibilities when exploring Washington DC. Luckily, there are guided walks throughout the city which means you don't have to worry about getting lost in unfamiliar neighbourhoods or missing out on any important sites.
Strolling through the streets of Washington DC
When out strolling around DC, there is no shortage whatsoever when it comes to what you can find here! From museums dedicated to history and culture, iconic monuments like The White House & Lincoln Memorial Reflecting Pool, countless other monuments scattered throughout various parks offer breathtaking views.
So, what do you want to see?
When visiting a city with enough attractions and activities to keep you busy for a month, the biggest question is always how to prioritise your time. The good news is that you can really get a good taste of Washington DC if you take help of a self-guided tour. Why not try Action Tour Guide's very own Washington DC Monuments Self-Guided Walking Tour? Tour takes you to all the greatest hits of the neighborhood, including the Washington Monument, the Lincoln Memorial, and the White House. Between the stops, we offer a ton of information about the city itself, starting with its founding just after the American Revolution and ending with the contemporary fight for statehood and representation in Congress.
I strongly recommend that you subscribe to Action+, which includes all of our tours in a single, year-long package. Travel all year and take our self-guided tours with you wherever you go!