Like any other trip, to get the most out of your tour of Chichen Itza, you should come prepared. First and foremost, always pack food and plenty of water. Chichen Itza can be swelteringly hot in the summer months, so combat dehydration with a few bottles of water.
Since most people will spend a few hours exploring the large park around Chichen Itza, bring along a good pair of walking shoes as you enjoy the tour of this ancient temple city.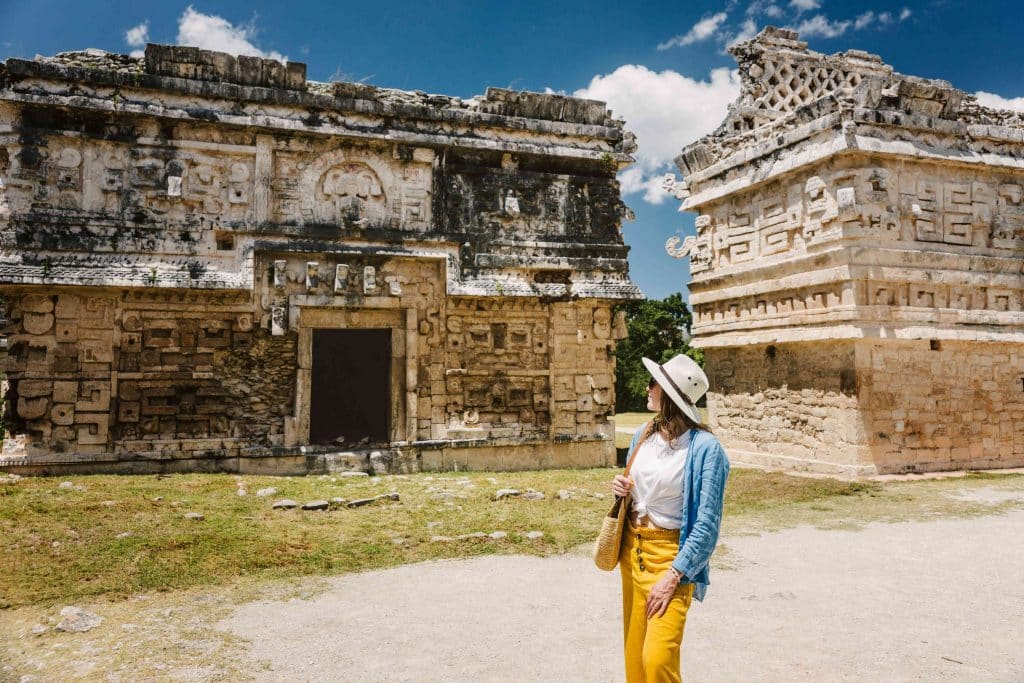 You will also want access to a map on your smartphone or a good old-fashioned paper map. This will help you navigate all of the fantastic sites in this sprawling park. To help guide you, download a self-directed walking tour of Chichen Itza from Action Tour Guide! This will help you dive deep into the fascinating story of Chichen Itza while giving you the flexibility of a self-guided audio tour.
Make sure to check the weather forecast before your visit. Chichen Itza is extremely hot in the early summer months; this hot season is followed by a short rainy season. The long winter months are the mildest time to visit Chichen Itza but always dress according to the weather. Sunscreen and insect repellant are must-haves for a visit to Chichen Itza.
Chichen Itza currently requires all visitors to be masked regardless of vaccination status, so bring along a few face coverings to keep your visit fun and safe.
At what time of day is Chichen Itza the least crowded?
Expect the park to be well-populated no matter what time you go; however, most travelers recommend arriving right when Chichen Itza opens at 8:00 in the morning. This will save you from waiting in any lines, and you will reach before the first of the big crowds do. However, whatever time you choose to take your tour of Chichen Itza, you'll be sure to enjoy the history, natural beauty, and architectural genius on display. 

Essential Travel Guide: