While driving, the Road to Hana is a destination in and of itself; many attractions can be found along the highway. The road trip along the Hana Highway isn't just about driving – there are plenty of activities that can be done while exploring! From visiting Haleakala Volcano at sunrise or sunset, seeing Hawaii's oldest fire temple ruins and exploring lava tubes as well as hiking trails inside Haleakala Crater; every adventure offers something unique with stunning views all around. No daytrip would be complete without taking time to appreciate the incredible nature that surrounds us throughout our journey.
From swimming among school fish in crystal-clear waters at Wailua Falls Park; surfing off Ho'okipa Beach Park; or exploring black sand beaches with tidepools full of amazing creatures – each stop has its own unique appeal offering memories sure to last a lifetime! Ho'okipa Beach Park, the stunning Rainbow Eucalyptus Grove, Kaumahina State Park, and Haleakala National Park. All of these spots are easily accessed from the Road to Hana.
One of the best things to do on the Road to Hana is to visit Ho'okipa Beach. Ho'okipa Beach Park is known worldwide as a premier surfing destination. The waves are intense, and the landscape is stunningly beautiful. This is a great place to pull off the highway to soak up some sunshine and go for a walk along the beach. As the surf is mighty, swimming isn't recommended.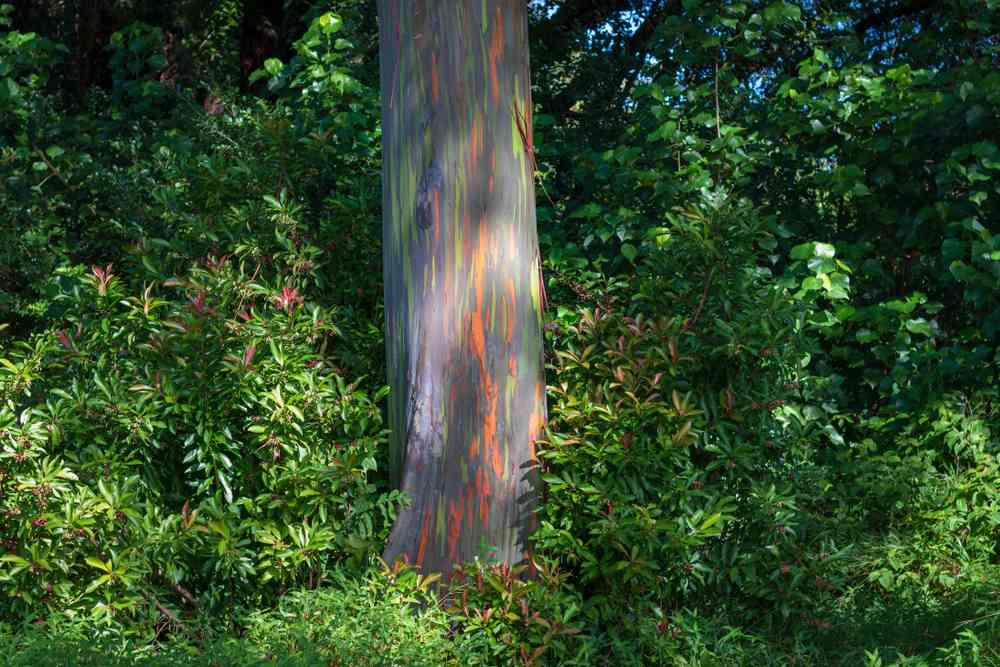 The Rainbow Eucalyptus grove boasts colorfully speckled eucalyptus trees. Their bark naturally produces iridescent pigments on their trunks that look like something from a Monet painting.
If you want to immerse yourself in the lush vegetation that you'll see from the highway, Kaumahina State Park is for you. The park is 7.9 acres of greenery and fascinating plants. This is an excellent spot for picnicking or an ideal spot to get out and stretch your legs after a long stint of driving. It provides a haven of peace and quiet away from it all; allowing you plenty of time for relaxation or exploration. The park also boasts full bathrooms, which, while less scenic than other parks on your trip are vitally important for any road trip!
Escape reality by visiting terrain unlike any other in Hawaii – Twin Falls ensures an experience filled with both adventure & luxury all at once. One of the most iconic features of Twin Falls are its two cascading waterfalls which can be seen from either side of this impressive landscape. With its rich flora and fauna, it's no surprise that nature lovers flock to experience this incredible destination all year round.
Located in East Maui near Hana town, Wailua falls provides an amazing view with lush tropical rainforests and cascading waters feet down into a crystalline pool at its base. There are plenty of things to do on the Road to Hana, and you will wrap up your drive at Haleakala National Park, so why not stop for a visit? Hiking, camping, picnicking, and more are all available at this beautiful national park.
And if sightseeing isn't enough then enjoy the best tasting ice cream known on Maui at Coconut Glen at Ho'okipa Beach Park or grab lunch boxes prepared by locals at Mama's Fish House & Charley Young Beach right near mile where you'll also find unbeatable sunset views too.
Is the Road to Hana exciting?
The Road to Hana is a fantastic combination of beautiful scenery, engaging and dynamic driving, and plentiful roadside attractions. There are plenty of things to do on the Road to Hana, from parks to beaches, to break up the driving as well. This road trip provides travellers with the chance to experience first-hand some of the most breath-taking scenery in Maui. Visitors can discover all that this island paradise has to offer along the Hana Highway. So grab your car keys and head out to explore the wonders of Road to Hana.
I'm sure you will love our self-guided tours. I strongly recommend that you subscribe to Action+, which includes all of our tours in a single, year-long package. Travel all year and take our self-guided tours with you wherever you go.
Essential Travel Guide: