Although both of these parks are in Utah, they offer very different experiences! Choosing which one you should visit depends on what you are looking for. While Bryce offers stunning views of hoodoos, taking an Arches park tour will bring you close to the iconic natural arches.
Lodging
Bryce offers a lodge inside the park, with lodge rooms and cabins. It's the perfect way to avoid long drives to and from the park without having to go camping. But since there's only one lodge, you have to make reservations well in advance if you want to stay there. The park also offers two different campgrounds with a total of 199 sites.
Arches only has one campground with 51 sites, making it the better option if you're looking for a more peaceful camping experience. This park is also only five minutes away from Moab. It's a city that makes for an excellent base for Arches National Park and getaways to Canyonlands National Park and mountain biking adventures!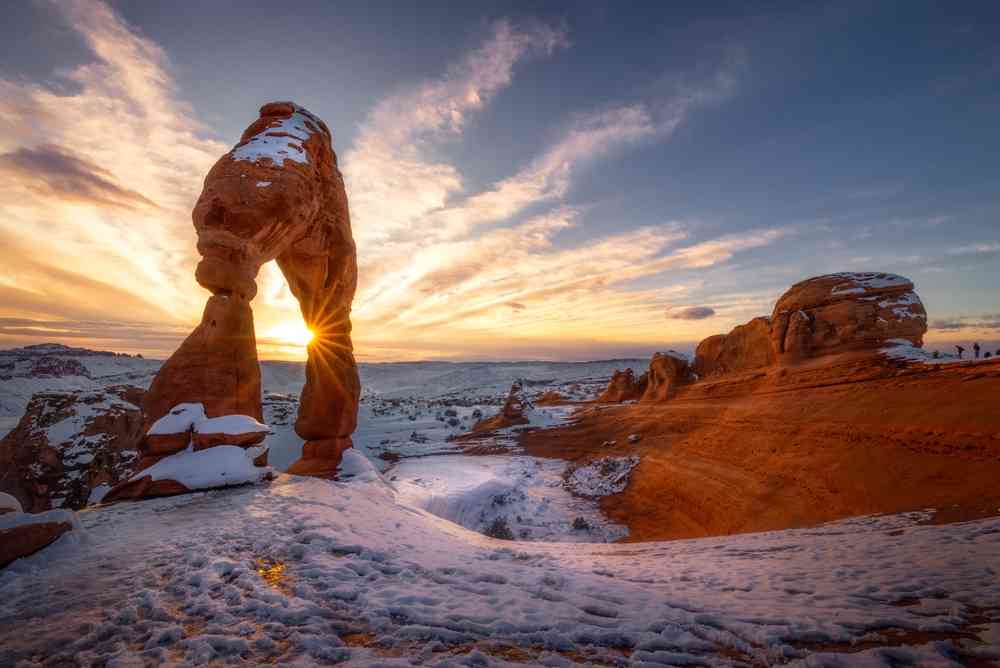 Pets
While both of these parks have a lot of pet restrictions, pets are welcome at all, but one of Bryce's overlooks and are even welcome on two paved sections of trails. Arches only allow dogs at campgrounds, parking lots, and along established roads, making it a lot harder to experience the park with your dog.
The Views
Bryce and Arches are both stunning. But Arches offer more variety. You can see a good portion of Bryce just from overlooks. And while the view of the hoodoos is otherworldly, if you're not a huge hoodoo fan, the view can start to grow monotonous. On the other hand, while Arches is packed with over 2,000 arches, the park also offers iconic rock formations like Balanced Rock.
Arches Park Tour
If you've decided that Arches is the one for you, experience the park with Action Tour Guide's Arches Park Tour. It's a self-guided audio tour that guides you along your journey and teaches you about the park.
So why wait to start your Arches adventure?
Additional FAQs:
1) Where is Arches National Park?
2) What is the best way to see Arches National Park?
3) What can you not miss at Arches National Park?