Short answer: No, not really. Seven Mile Bridge is a stretch of highway over the water, so while the view of the ocean is one of the most spectacular vistas on any Florida Keys tour, there isn't really anywhere to stop your car and look around. However, the Old Seven Mile Bridge runs parallel to the highway. It is only accessible by bike or on foot, making it a better option for anybody looking to take the scenic route between Marathon and Bahia Honda.
The Old Seven Mile Bridge dates back to the turn of the 20th century when the Overseas Railroad was first built to connect the Keys. Before the railroad was built, the only way to travel between the Keys islands was by ferry, which made economic expansion difficult. The railroad allowed the Lower Keys, like Bahia Honda and Key West, to experience their own boom. However, when the Labor Day hurricane damaged the tracks in 1935, they were replaced by the Overseas Highway, which allowed cars to drive all the way from Miami to Key West.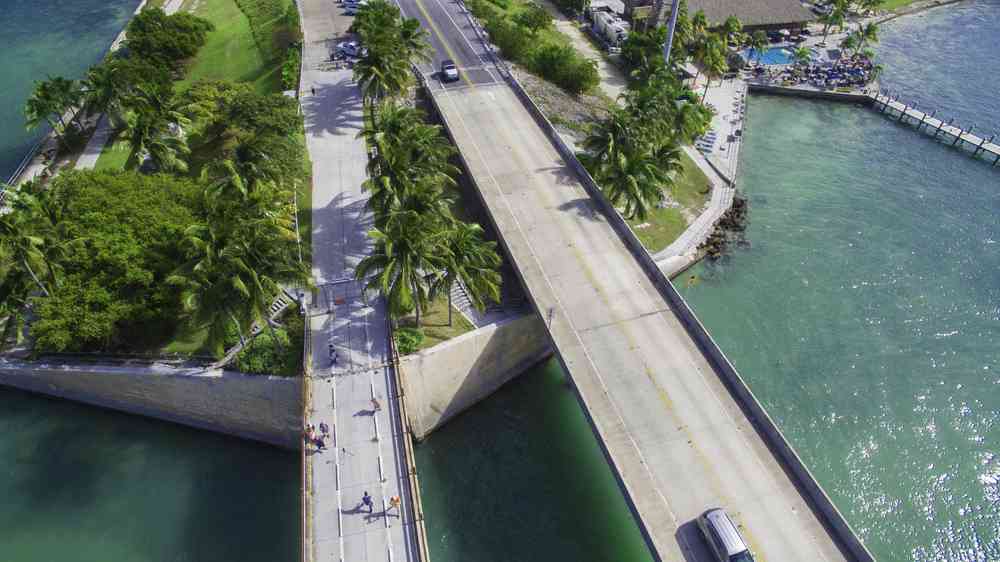 Today, the Old Seven Mile Bridge is one of the few remaining remnants of the old Overseas Railroad. It's used mainly by residents of the Keys looking for a place to jog, bike, or fish over the ocean. Walking the length of the bridge can take up to two hours, so it's not ideal if you're eager to reach your destination in the Lower Keys, but it can be a more relaxing and scenic path.
Interested in seeing the Seven Mile Bridge for yourself? If you're planning a trip to the Keys, we recommend giving our Florida Keys Self-Guided Driving Tour a try.
Essential Travel Guide: