From one end of the Seven Mile Bridge to the other, it is about a ten-minute drive. However, you should feel free to take your time since, as any Florida Keys tour will tell you, the Seven Mile Bridge has some of the most beautiful views of the ocean anywhere in the Keys. If you can time it right, driving over Seven Mile Bridge during the sunset could be one of the highlights of your trip to the Keys.
Fun fact: There are actually two different Seven-Mile Bridges. The first bridge was built as part of Henry Flagler's Overseas Railroad, which connected the islands in the Keys before the highway was built. The Seven-Mile Bridge connected the Middle Keys to the Lower Keys and was one of the most important sections of the railroad when it was built. It was also one of the longest bridges in the world at the time, although it's since been left behind by some of the long high-speed rail bridges in China and elsewhere.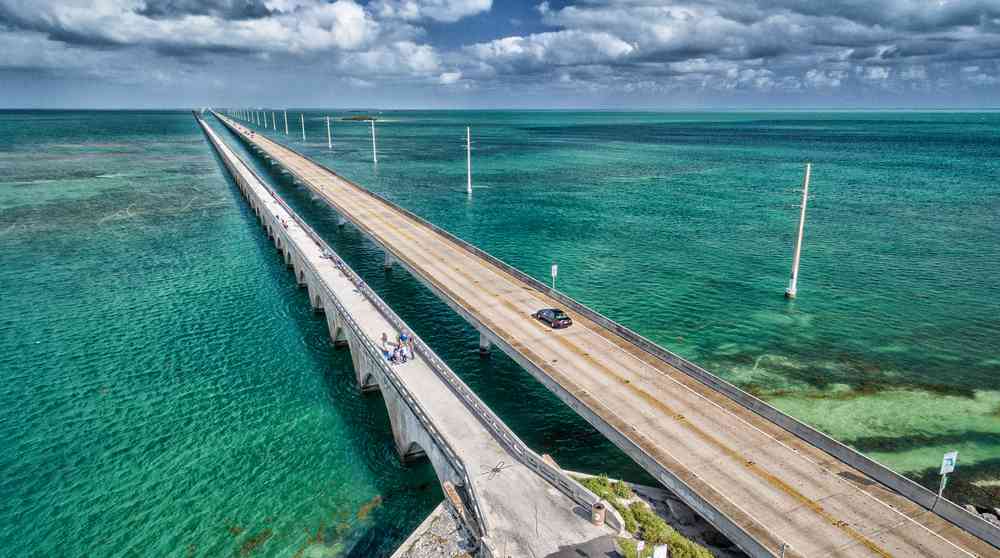 After the Labor Day hurricane of 1935 destroyed parts of the railroad, Florida took over the project and replaced the tracks with the new Overseas Highway. Today, the old railroad version of the bridge is still accessible by bike or on foot, but cars have to take the new Seven Mile Bridge. If you find yourself on the old bridge, then make sure to keep an eye out for Fred the tree, an Australian pine tree that has somehow managed to survive on the bridge through even Hurricane Irma. Fred's durability has made him something of a symbol for the Keys people.
To see Seven Mile Bridge for yourself, why not give our self-guided driving tour of the Florida Keys a try? The tour will take you to see Seven Mile Bridge, Fred, and everything else in the Keys that's worth seeing!
Essential Travel Guide: