Put simply, the Coba Mayan ruins are old. This ancient Mayan metropolis is over 2,000 years old! This ruined city was once the center of an intricate stone causeway system and it contains many records of daily and ceremonial life for the Mayans.
Scattered around several lakes in the Mayan lowlands, Coba consists of a pyramid, a ball-court, and several other remaining stone structures. Surprisingly intact paved roads criss-cross through the ancient city, connecting the sites to one another. La Iglesia Pyramid and the Crossroads Pyramid are both well-preserved examples of the genius of Mayan architecture.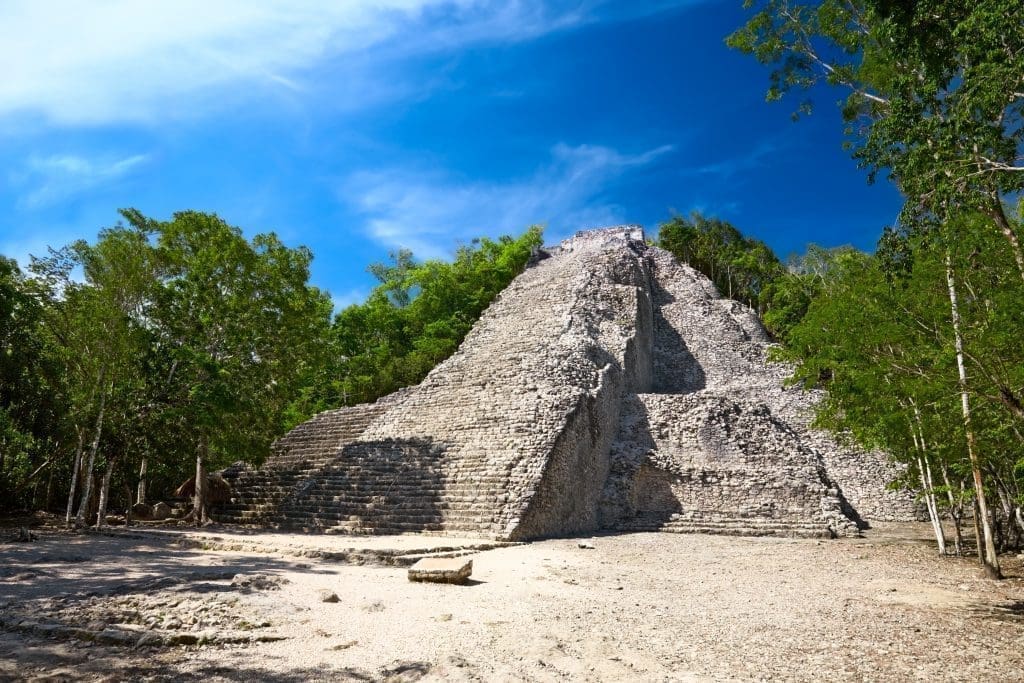 The city of Coba survived a shockingly long time compared with some other Mayan cities of comparable size. While most of the Mayan cities had collapsed by the 10th century and were either abandoned or had greatly shrunken in the population under dissolving leadership. Coba, however, was not fully abandoned until around the 15th century! That's a pretty long life for a city.
The ruins of Coba are also noteworthy for their numerous stelae or upright carved stones. These stones detail important information about the sociopolitical life of the Mayan culture. This includes details about dressing, politics, religion, and the role of men and women in their society. Women are in positions of leadership and power in many of the Stelae, hinting at an interesting social structure.
The Coba Mayan ruins also boast one of the largest pyramids on the Yucatan peninsula; Nohoch Mul.
Can you climb the Pyramids at Coba?
You can indeed climb up many of the structures at Coba, including Nohoch Mul, however, there are group restrictions due to Covid-19. With so much history to explore, downloading an audio guide from Action Tour Guide can make your journey to this ancient city even more unforgettable. As you look at the landscape from the top of Nohoch Mul, soak up the history and beauty around you. The ancient Coba Mayan Ruins are an amazing way to learn about the fascinating and enduring Mayan society.
Essential Travel Guide: