When you enter Arches with your own vehicle, you'll be asked to pay $30 for a park pass that'll give you access to Arches for a week. But fortunately, there's a few different ways to make your Arches trip affordable and exciting. One of them is spending just $7 more for an enriching audio tour from Action Tour Guide. This tour not only brings you to the park's must-see stops, but also dives into the park's history. It's the kind of experience that allows you to have a deeper understanding of the park – especially if you're looking to enjoy most of this park from the road.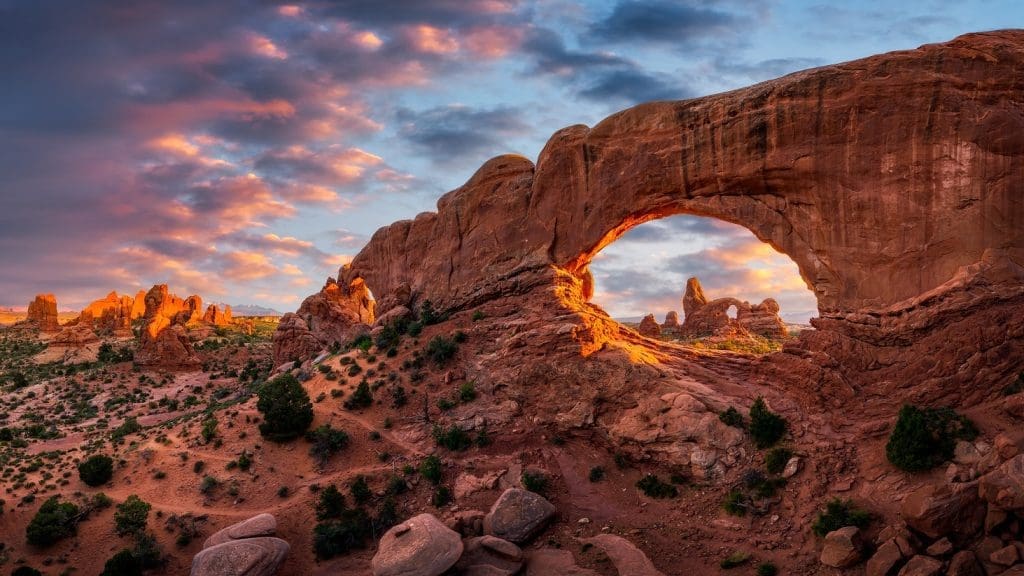 The Park Service also offers some ways you can save money. If you're interested in visiting nearby parks, purchase the Southeast Utah Parks Pass. This $55 purchase is good for a year and gives you access to Arches National Park, Canyonlands National Park, and Natural Bridges National Monument. Using the pass to visit all three saves you $25.
But if you're looking to visit three or more national parks anywhere in the US, you'll want to buy the America the Beautiful Annual Pass. This $80 pass gives you access to all US National Parks for a full year.
Is Arches National Park Open?
Before planning an Arches adventure, you might wonder: "Is Arches National Park open?" Luckily, it's open 24/7 throughout the whole year! That means that no matter when you want to have your Arches adventure, the park will be waiting for you. Park audio tours have the same availability, so you don't have to worry about missing out on an in-depth experience.
But is Arches National Park open with an available visitor center and ranger-lead programs every day? Not quite. Ranger-lead programs are held from spring through fall. The only other thing you might want to factor in is that the Visitor Center is generally only open from 9 to 4 with reduced hours for Christmas Eve and Thanksgiving, and is completely closed on Christmas Day. You can also get to know the ins and outs of Arches National Park and Canyonlands National Park in Utah from the comfort of your own car.
Additional FAQs:
1) What can you not miss at Arches National Park?
2) Which is better: Bryce Canyon or Arches?
3) What is the best way to see Arches National Park?
4) What is the best arch in Arches National Park?