Yes – it's one of the nicest national parks to visit during the winter months! With mild daily highs around 60, you'll be able to make the most out of your Joshua Tree Tour without having to fight the heat. This makes the winter months a perfect time to hit some of the park's longer hikes. While Joshua Tree has a lot of worthwhile hikes, if you're an experienced hiker, try the Lost Horse Loop Trail. This trail offers a rewarding challenge and a look into the park's mining history. If learning more about the park's history interests you, Action Tour Guide's Joshua Tree Tour not only gives you a glimpse into the past but also points out some of the park's best hikes.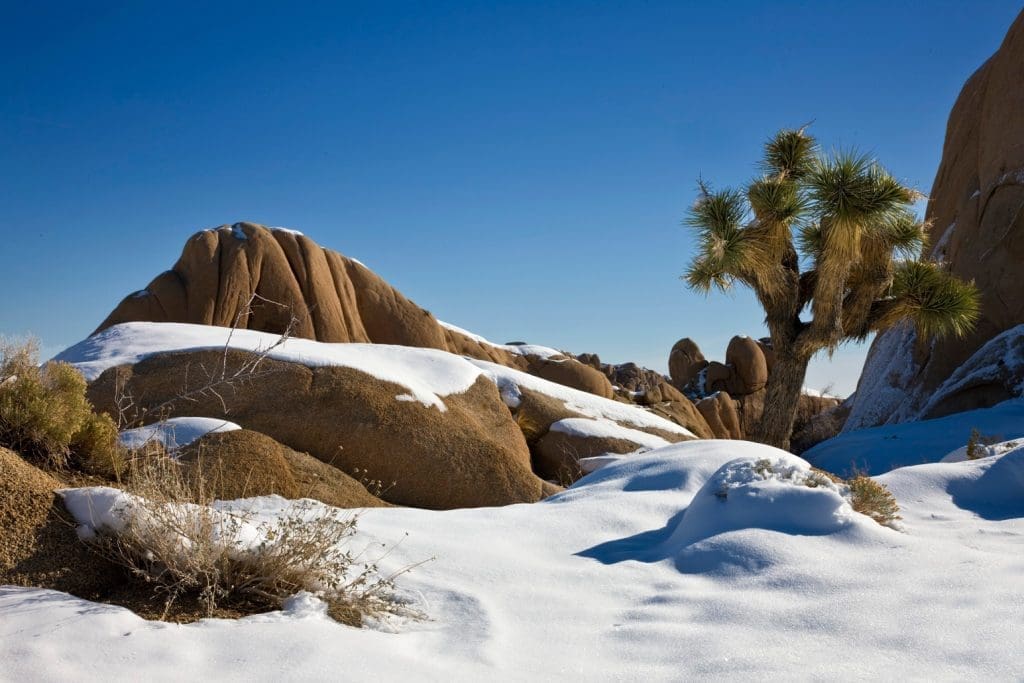 Weather in Joshua Tree National Park
It may come as a shock, but Joshua Tree has a rainy season despite being in a desert. The wet weather in Joshua Tree National Park starts in late July and ends in mid March. But don't think that a winter trip means you're going to get washed out! While the winter months have the highest percentage of rain, you're not likely to see more than one day with rain on your trip.
A Place of Extremes
There's more than just factoring in weather in Joshua Tree National Park when deciding what season you want to visit. Deserts tend to be places of temperature extremes, which makes parks like Joshua Tree very popular in the spring and fall. While you're probably already aware of the park's dangerously high summer temperatures, there is one slight problem with visiting Joshua Tree in the winter. While the days are gorgeously mild, nighttime temperatures can slip below freezing. So if you want to camp in the park during the winter, just make sure you keep yourself bundled up.
Essential Travel Guide: