Arches National Park stays open all year long. So if you're wanting a unique winter adventure, an Arches park tour might be just what you're looking for! Traveling in winter has a lot of advantages. The biggest one is that the winter months are quiet. While Arches is a popular park, the colder months receive so few visitors that you might have some trails all to yourself! It's the perfect opportunity to connect with nature.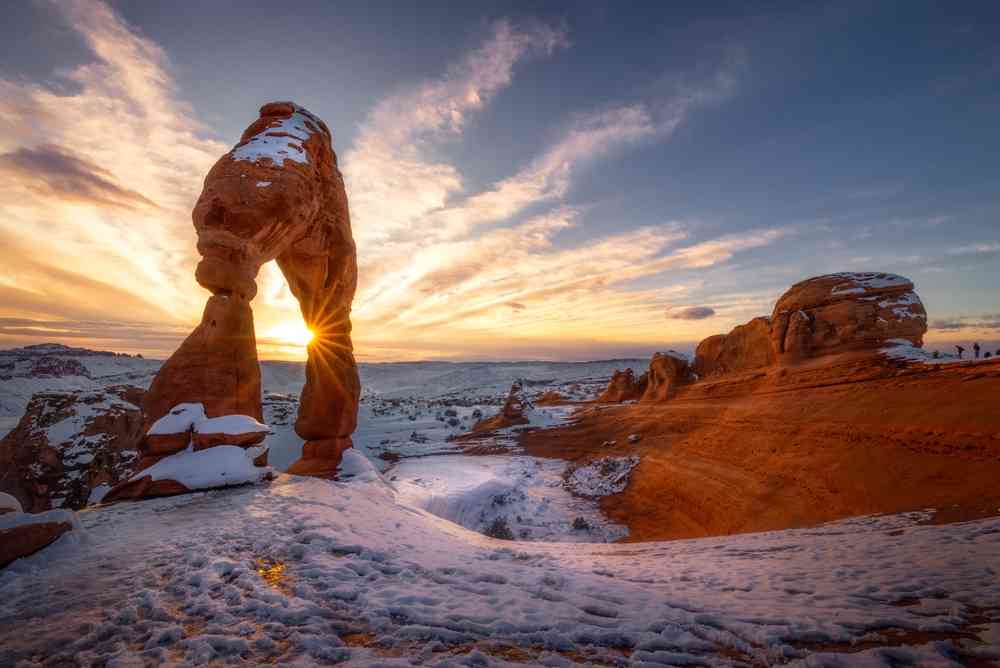 Another huge advantage to the winter months is that you won't have to experience blistering heat. It's one thing to experience summer temperatures that soar into the 100s, but hiking in them is a different story. In winter, the highs are anywhere between 30 to 50 degrees Fahrenheit. It easily allows for a more comfortable hiking experience. All you need is to make sure you dress warmly and bring the right hiking gear for the trail conditions.
The only downside? There aren't any ranger-led activities available during the winter season. So if you're really excited about exploring the Fiery Furnace with a ranger as your guide, you're going to want to visit sometime from spring through autumn.
Does it Snow in Arches?
Yes. The park generally only gets a little bit of snow, but that small amount provides a stunning contrast of white against red rocks. The snow can make things slippery though! After a snowstorm, roads can be closed for over an hour before they're ready for the public. But the trails often get more and more slippery with ice and compacted snow. The best way to keep yourself safe in those conditions is simply by using trekking poles and traction devices.
What is the Best Time of Year to Go to Arches National Park?
Winter is a great time to visit if you don't mind the ice and lack of ranger-led activities. But if you're looking to do more intense hiking and ranger-led activities, visit during April or October. Not only will everything be open and likely ice free, but temperatures generally only reach a mild 70 degrees. But if you're wanting to stay clear of the crowds and see a side of the park that few get to experience, the winter months are going to be your best bet.
Arches Park Tour
Taking a self-guided Arches park tour will enrich your trip no matter when you decide to visit. Self-guided tours give you the ability to travel through the park at your own pace. Along your journey, you'll learn about the park's geology and hear local stories. It's an experience that you can only get through this type of tour! With our self-guided driving tour bundle, find out more about Arches and Canyonlands than ever before.
Additional FAQs:
1) What can you not miss at Arches National Park?
2) How much does it cost to drive through Arches National Park?
3) What is the best way to see Arches National Park?
4) What is the best arch in Arches National Park?