Thrill-seekers and folks who like to get up close and personal with history rejoice! The Coba Ruins are open to the public and you can even climb up the pyramids, just like the Mayans did 2,000 years ago. Getting a chance to touch history is rare, and getting so close to such ancient history is exciting for everyone.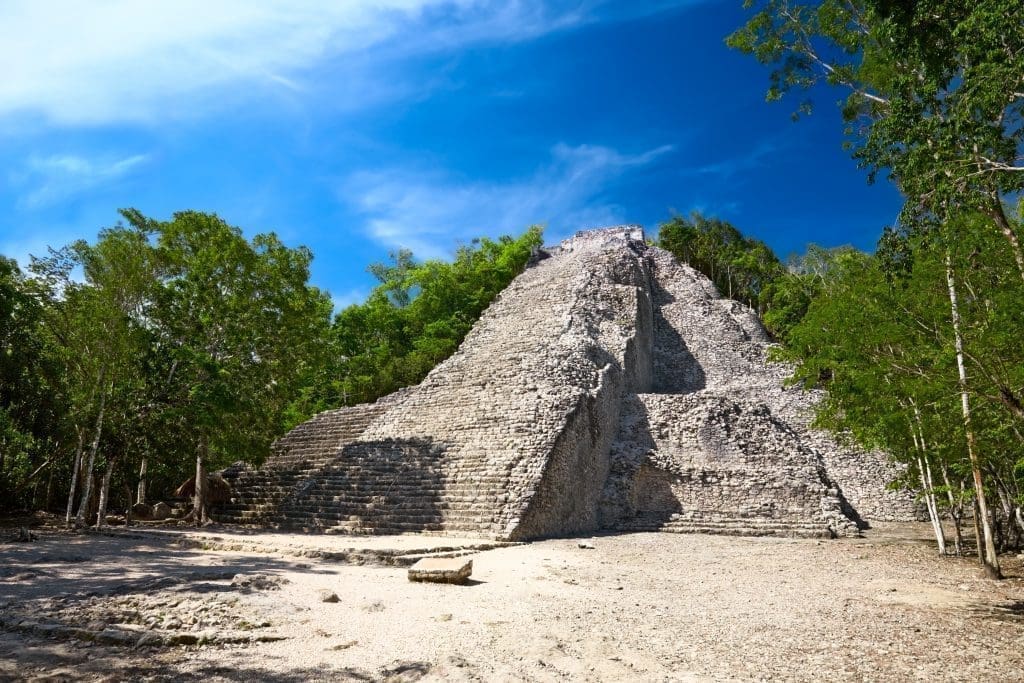 Two hours outside of Cancun and about forty-five minutes from Tulum, Coba is a must-see for people looking for some of the best ancient ruins on the peninsula. Nestled between two dazzling lakes and tucked away from the beaten path, the Coba Mayan Ruins hit the sweet spot of under-crowding, beauty, and rich history. Coba is also an excellent place to explore Mayan History up-close and personal. This site is highly interactive and you can climb the pyramids here and get close to the thousands of years old structures. 
The main attraction at the Coba Mayan ruins is the temple pyramid of Nohoch-Mul. Nohoch-Mul is a towering behemoth temple pyramid believed to have been built around 250 AD, with the temple on top finished centuries after. The name Nohoch-Mul means Great Mound in Mayan and it is one of the largest temple pyramids in the Yucatan Peninsula. lt has over 130 steps in total. Don't be intimidated by the height and steep incline! There is a sturdy rope that you can hold or cling onto as you ascend. Of course, use caution here as you would at any other semi-strenuous outdoor tourist attraction. Make sure that you're wearing good walking or hiking boots and are well hydrated before making the climb, especially in hot weather which is common at Coba. 
The reward at the top of the pyramid is worth another 130 steps. You'll be treated to sweeping, panoramic views of lush forests and a full view of the crystalline lake Macanxoc and Lake Coba.
How tall is the Pyramid at Coba?
There are several pyramids at the Coba Mayan Ruins; the tallest, Nohoch-Mul, is 140 feet tall.
I strongly recommend that you subscribe to Action+, which includes all of our tours in a single, year-long package.
Essential Travel Guide: