The Ek Balam ruins are relatively small compared to Chichen Itza for example. Most travelers recommend spending ninety minutes to two hours at the site, this will give you plenty of time to explore the site, climb the pyramid and visit the nearby cenote if you'd like. The park is quiet, with no vendors or roped-off pyramid areas, and you are free to explore at your own pace. Two hours is plenty of time to see the park entirely and soak up all of the history here!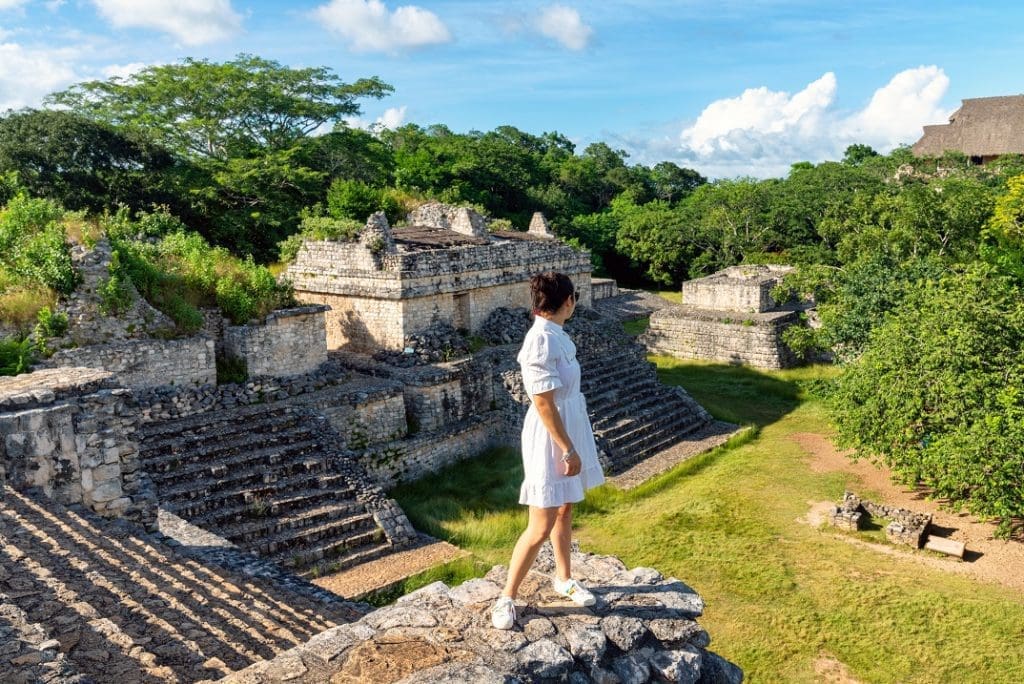 What should you pack on a trip to Ek Balam?
You'll be spending a good amount of time outdoors at the Ek Balam ruins, as such, you'll want to come prepared. Check the weather before you go, you may need to pack a rain jacket or poncho. Additionally, its very hot and sunny here in summer months, so bring along appropriate clothing, sunscreen and sunglasses. Comfortable shoes are a must! Especially if you're planning on climbing the pyramid, the steps are surprisingly challenging; steep, worn down and uneven in places, so get ready for some careful climbing. Bring along some insect repellant as well, the jungle is bursting with life, including the six-legged and winged type! You can bring a bike if you'd like to explore the cenote nearby or rent one onsite if you'd prefer.

Are there Guides at Ek Balam?
You can hire a guide at Ek Balam. However, the Ek Balam ruins are uniquely well suited for a self-guided tour. This quiet, outdoor historic site, is the kind of place where you'll want to meander about at your own pace. There is plenty of history to learn, however, so a tour will help you get the most of your trip. Ek Balam is a great place to enjoy the more laid-back atmosphere with flexibility and freedom accessible with a self-guided tour. 
How many steps are there at Ek Balam?
There are 106 steps up the pyramid at the Ek Balam ruins! Be careful, they are steep and bumpy in certain places. The view from the top is all worth it, however, you'll get a panoramic view of the jungle and can even see Chichen Itza on clear days!
Essential Travel Guide: