The ancient temple city of Coba can be found in the Yucatan Peninsula. The Coba Ruins are located in the Mexican state of Quintana Roo some twenty-seven miles away from Tulum. The Coba Ruins are known as a rich source of information on the Mayan Civilization and the large stone pyramids. You can even climb to the top of the largest Nohoch Mul Pyramid, Ixmoja. The Nohoch-Mul cluster of pyramids is located within the park. They are arranged nearby one another Northwest of Lake Macanxoc. You can even climb to the top of the pyramids! Be careful, the steps are steep, but there is a rope handrail that you can use to steady yourself. From the top of the pyramid, you can soak up the breathtaking sights of Lake Macanxoc and Lake Coba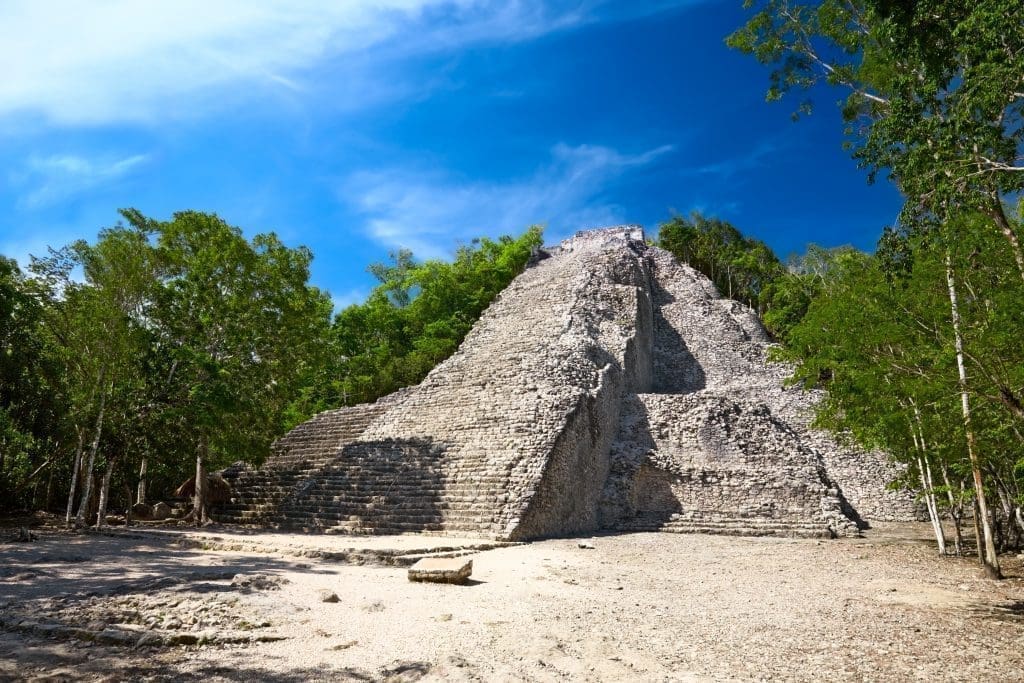 How do you get to the Coba Ruins?
The Coba Ruins are located in a remote area, however, it's not too difficult to get there from one of the more major cities. However, of course, to visit the Coba Ruins, you'll want to have access to reliable transportation in the form of a rented or personal vehicle or a hired ride like a taxi. 
Car rental is the most accessible option for most folks. Tulum, a nearby and popular destination, has plenty of locations where you can rent a car or hire a driver. Keep in mind that the town at Coba is tiny and will likely not have any transportation for you to take to the ruins. The closest large town is Tulane.
For folks staying in Tulum, another option is to take a public bus. There is a bus that leaves early each morning from the ADO bus terminal in Tulum. The ride is only about an hour long and a ticket will only cost you about 50 Mexican Pesos, which translates to about 2.50 U.S. dollars. 
Essential Travel Guide: