Is the pyramid at Coba taller than Chichen Itza?
The Coba Ruins feature an estimated 6,000 ancient structures including ball-courts, causeways, and of course, pyramids. Pyramids were a huge part of Mayan culture and were customarily built as the base of religious buildings such as temples. Pyramids were also built by other meso-american tribes such as the Aztecs who followed a similar architectural style of a stepped and flat-topped pyramid.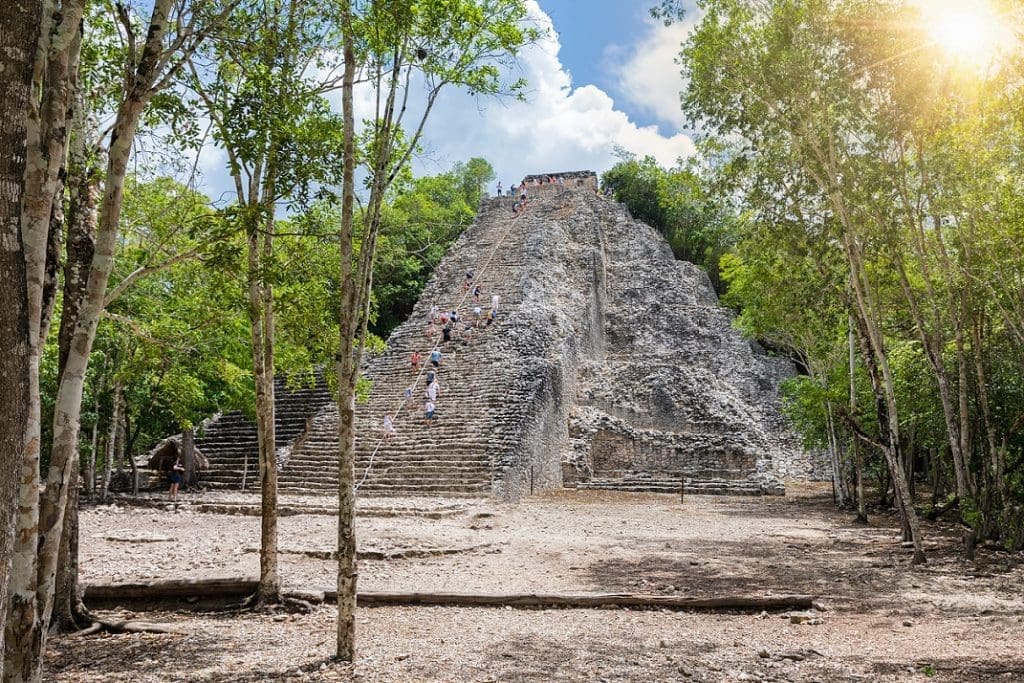 At the ancient temple city of Chichen Itza, you can also find a massive pyramid, this one is called El Castillo or the Temple of Kukulcan. The pyramid was built in honor of the mighty serpent deity Kukulcan. This pyramid rises to a height of nearly 100 feet tall! However, this pyramid is closed to the public and visitors cannot climb to the top to prevent further degradation of the ancient stone work. 
Traveling slightly off the beaten path from more highly trafficked places like Chichen Itza, you can still find wondrous pieces of Mayan culture. At the Coba Ruins, you'll find the Nohoch-Mul pyramids. These ancient behemoths are even bigger than Chichen Itza, the tallest of which is nearly 140 feet tall! Best yet, you can climb to the top of this ancient temple pyramid to soak up some truly spectacular views. 
Are there cenotes at the Coba Ruins?
Anyone visiting the Coba Ruins should also take the opportunity to cool off in the nearby cenotes. Cenotes are ancient limestone sinkholes where the softer rock eroded allowing freshwater springs to fill the cavity and you can find them all over the Yucatan Peninsula!
There are three cenotes about ten minutes away from the Coba Ruins. After a long day of walking around the park, cooling off in the deep blue water of the cenotes could be just what you need. The Cenote Multum Ha is one of the more accessible cenotes nearby. Here you can paddle around in the crystal clear water and escape the heat. 
Essential Travel Guide: