The Ek Balam Ruins are full of mystery and have captured the imagination of historians and linguists for decades. From its strange and rapid exodus of its citizens around the 11th century, to the intriguing Jaguar god it was built in the name of, Ek Balam is a magical place that raises questions for historians and tourists alike.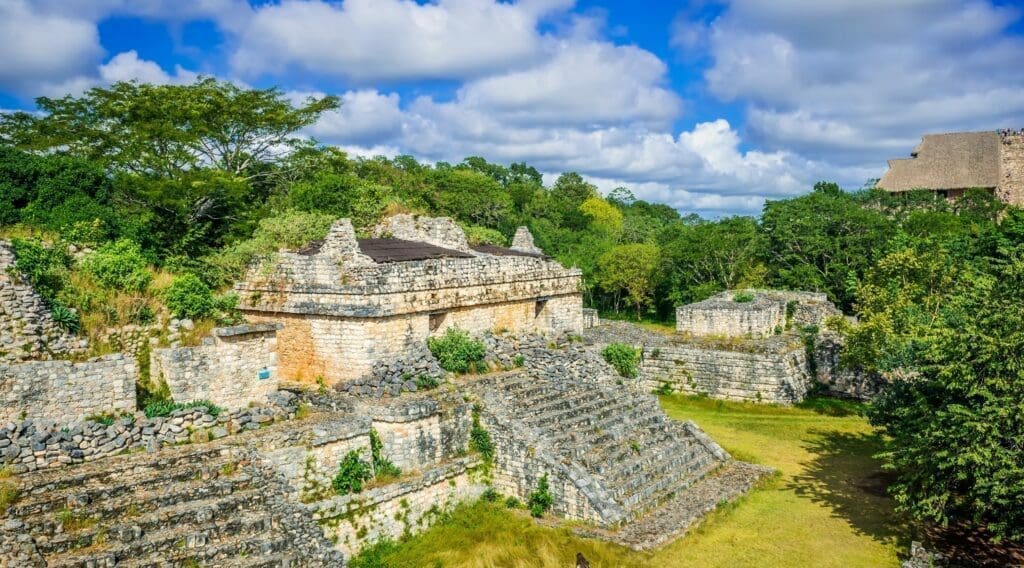 The name of Ek Balam, at least, is something most historians can agree on. The name is in reference to the Mayan's jaguar god and the name Ek Balam means "Black Jaguar" or "Bright Star Jaguar." Mayan priests were also referred to as Balam. However, in Mayan culture, there were a number of jaguar deities and demi-gods, some were protectors, others were more fearsome; guardians of the underworld or sovereigns of war and destruction. Exactly which jaguar god was celebrated at Ek Balam is unclear, but the stunning architecture created for it is an enduring testament to the reverence of the Maya.
What is the name of the Mayan jaguar god?
The jaguar is a powerful and mysterious animal. They are smart, beautiful creatures that inspired awe and respect in the Mayan people. As such, there are at least eight known deities in Mayan lore that have characteristics of Jaguars. God L is the Mayan God of sorcery and the oldest of all recorded Mayan deities. There is also Ix Chel, the jaguar goddess of midwifery and war. The jaguar twin heros named Hun-ahpu and Xbalanque were foils for each other; one mild and diplomatic, the other violent and warlike. Its likely that God L was celebrated at the Ek Balam ruins, but it remains to be something of a riddle.
Why were Jaguars important to the Mayans?
Jaguars were an important part of life for the Mayans who lived in fairly close proximity with these mighty beasts. To the Mayans, the jaguar represented dark and light, living and underworld. Jaguars are fierce, yet stealthy. They utilize both brute strength and strategy in their hunting. The characteristics of this animal likely appealed to the Mayan people as much as they do to people today. The striking, patterned fur helps jaguars hide, adding to their "now you see them, now you don't" appeal. Citizens of the Ek Balam ruins likely encountered jaguars regularly, and worshiped the numerous jaguar-form deities. Download the Ek Balam self-guided audio tour.
Essential Travel Guide: