Carmel, or Carmel-by-the-Sea as some call it, acts as the northern gateway town to the Big Sur drive. Many people start or end their Big Sur adventures at Carmel, as it's easy to drive the Big Sur stretch of Highway 1 from there. Action Tour Guide's Self-Guided Big Sur Tour starts even further north in Monterey and makes Carmel part of the tour before moving on to the rest of the Big Sur drive.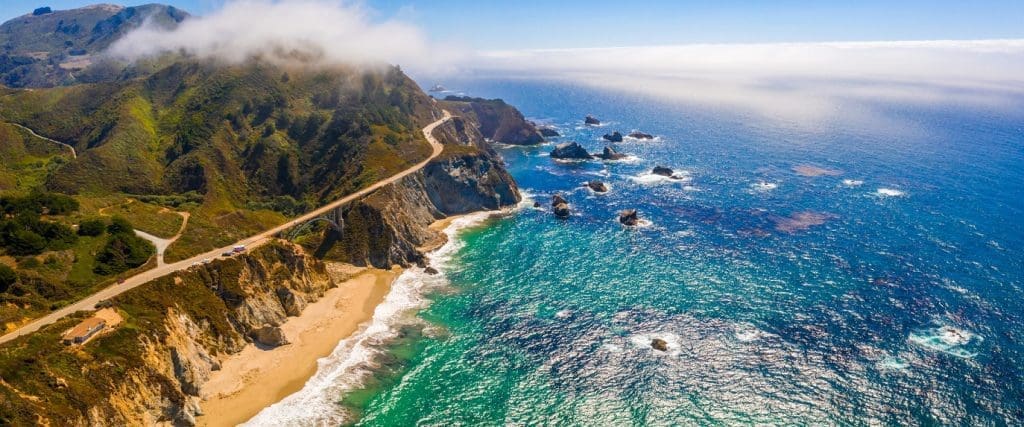 Things to Do in Carmel:
Carmel Mission
The Carmel Mission dates back to the early 1770s and is on the National Register of Historic Places. Here, you'll find both an active Catholic Parish and a museum that has exhibits on Imperial Spain and California. No matter your religious beliefs, you're welcome to see this important piece of Californian history.
Ocean Avenue
Ocean Avenue is a great place for sightseeing! We recommend taking a walk along this street to get the full experience of window shopping or even stopping in the many boutique shops along the road. If you're hungry, grab a bite at the restaurants and coffee shops, and if you're a fan of art, keep your eyes peeled for art galleries.
Garrapata State Park
Garrapata is one of the many beautiful state parks in the Big Sur area. Walk along the bluffs and the beach to get views of the Pacific Ocean. You might even see gray whales! And inland, you can walk under redwoods. If you'd like to learn about this beautiful park as you drive through it, download Action Tour Guide's Big Sur Tour.
Big Sur Drive
Continuing on from Carmel to the rest of the Big Sur drive is easy with Action Tour Guide's Big Sur Tour. The tour downloads straight to your phone. And thanks to GPS technology, it's audio narration always tells you about what you see right before or while you see it. It's like having your own personal tour guide in the car with you!
So why wait? Start your Big Sur adventure today!
Essential Travel Guide: