When it comes to the Grand Canyon, there's more than just one good month to pick from. However, the two that stand out are April and October. These mild months are perfect for taking a Grand Canyon tour like this one.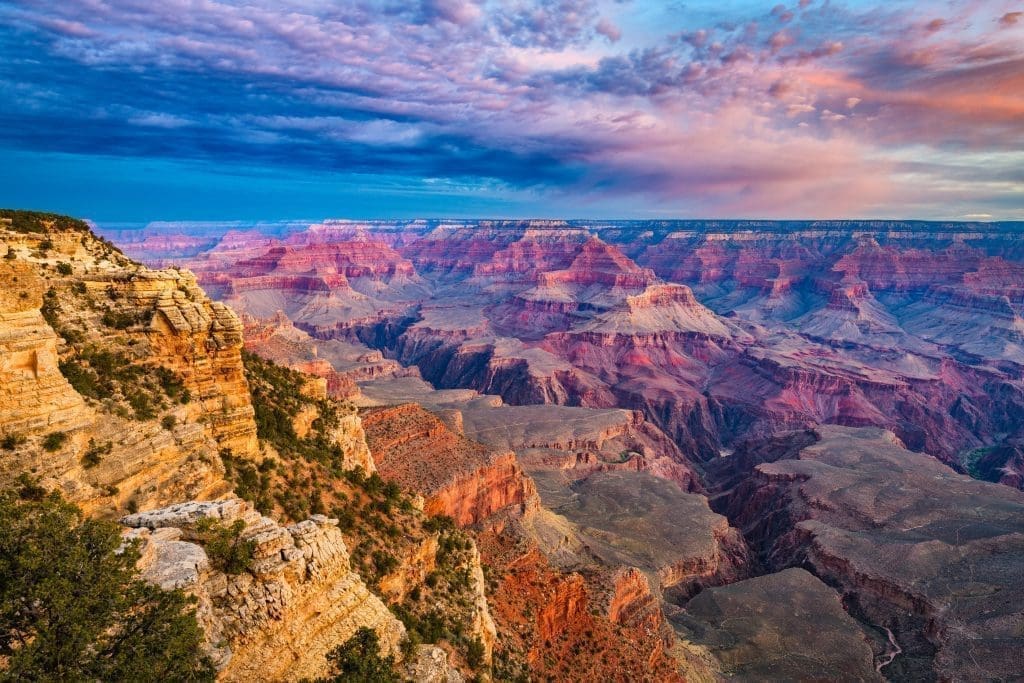 Beating the Crowds
The Grand Canyon is one of the most popular national parks the US has to offer. In 2019 alone, the park had almost 6 million visitors! There isn't a way to completely avoid all of the hustle and bustle, but choosing not to visit the park in the summer certainly helps with avoiding the crowds.
Making the Most Out of Your Trip
Depending on what you want to do, the crowds aren't the only thing you need to consider when planning for your trip. If you want to hike, fall and spring are your best bet. The canyon actually influences weather, so in the summer when the popular South Rim is about 80 degrees, the bottom of the canyon is over 100 degrees! This can make hikes to the bottom of the canyon very strenuous and even dangerous. And winter can get surprisingly cold and icy. But during mid to late April and early to mid October, the average temperature on the South Rim is around 60, and the bottom of the canyon is in the low 80s. It's almost perfect to hike in. And what's great about these months is that their the first and last month respectively that river rafting tours are open. So if you're hoping to have an adventure on the Colorado River, you can.
The Forgotten Rim
When most people think of the Grand Canyon, they either think about seeing the canyon from the South Rim or experiencing being down in the canyon itself. But the park also has the North Rim. This rim is a great way to break away from the crowds, but it doesn't offer the same iconic views and activities that the South Rim offers. So if you're a first time visitor to the Grand Canyon, visit the South Rim. However, if you've already visited the Grand Canyon before and want a different experience, know that the North Rim's facilities are only open from May 15 to October 15.
Grand Canyon Tour
No matter when you visit the Grand Canyon, taking a self-guided Grand Canyon tour like this one will enhance your experience! You'll be able to learn about the park's history as you walk and drive to some of the park's greatest views and memorable trails. And the best part? You can take the tour whenever you want and have an enriching trip without traveling in a big tour group.
So what are you waiting for? Start your Grand Canyon tour today.