Bixby Bridge is part of Highway 1 in the Big Sur region of California. The bridge is less than 15 miles south of Carmel-by-the Sea and a little under 10 miles north of Andrew Molera State Park. If you're unfamiliar with the area, consider taking Action Tour Guide's Self-Guided Big Sur Tour. The tour downloads straight to your phone, and the best part is that the tour's audio automatically plays at certain points along your journey, so you can focus on the beauty surrounding you while you learn about Big Sur.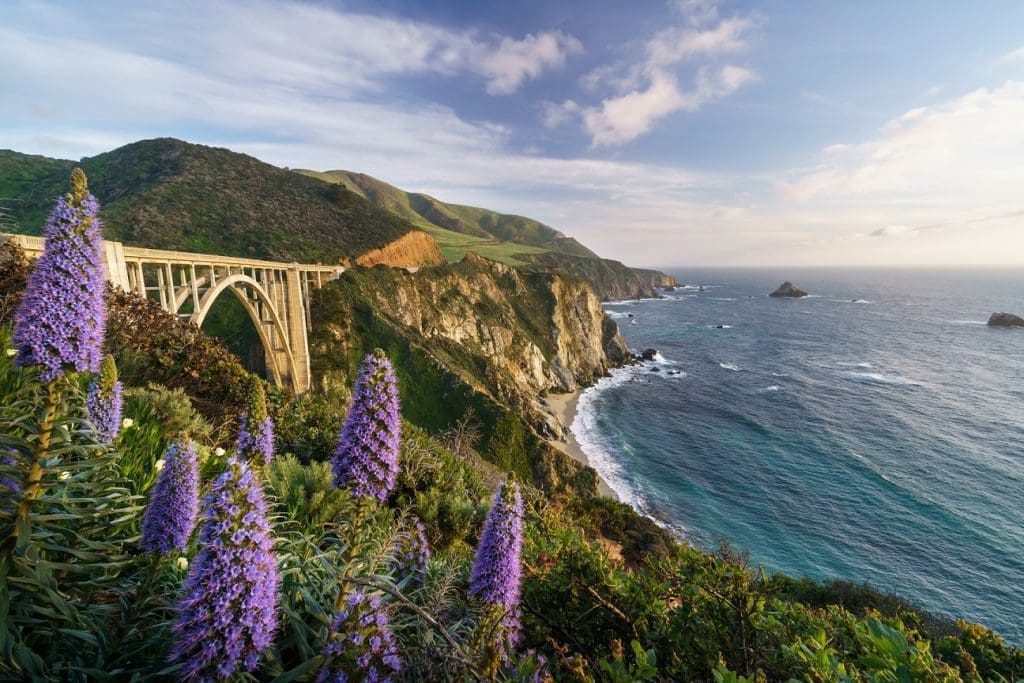 Bixby Bridge, Big Sur
But you might be wondering: what's so great about Bixby Bridge? Big Sur has the stunning natural beauty of California's redwoods and views of the Pacific Ocean, yet this bridge is considered one of the region's highlights. Bixby Bridge is an open-spandrel arch bridge that has a simplistic beauty on its own, but is heightened by the natural beauty that surrounds it.
Visiting Bixby Bridge
Big Sur is a popular tourist destination, so it makes sense that this famous bridge gets crowded. But there's a couple of ways to improve your chances of finding a nearby place to park. The first is by getting an early start. If you're at the bridge for sunrise, not only will there be less people, but you'll be treated to a sight that few people see. Another good way to beat the crowds is by visiting during the week.
You'll also want to make sure that you're wearing the right kind of shoes when you visit Bixby Bridge. Big Sur is full of steep mountains, and the area around this bridge is no different. If you're the type who likes to try to get a closer look or  take a picture at just the right angle, you'll need to make sure you wear sturdy shoes before heading onto one of the nearby paths.
Touring Big Sur
If you're looking to make your trip to Bixby Bridge into an adventure, take Action Tour Guide's Big Sur Tour. The tour takes you from Monterey all the way to Pismo Beach. You'll learn not only about the area's history, but also nearby attractions that you might otherwise miss!
Essential Travel Guide: