One of the most unique things about Canyonlands National Park is the layout. The park is split into four distinct districts: the Island in the Sky, the Needles, the Maze, and the Rivers. Each one has its own special personality and secrets to explore, which means you can see something new every time you visit.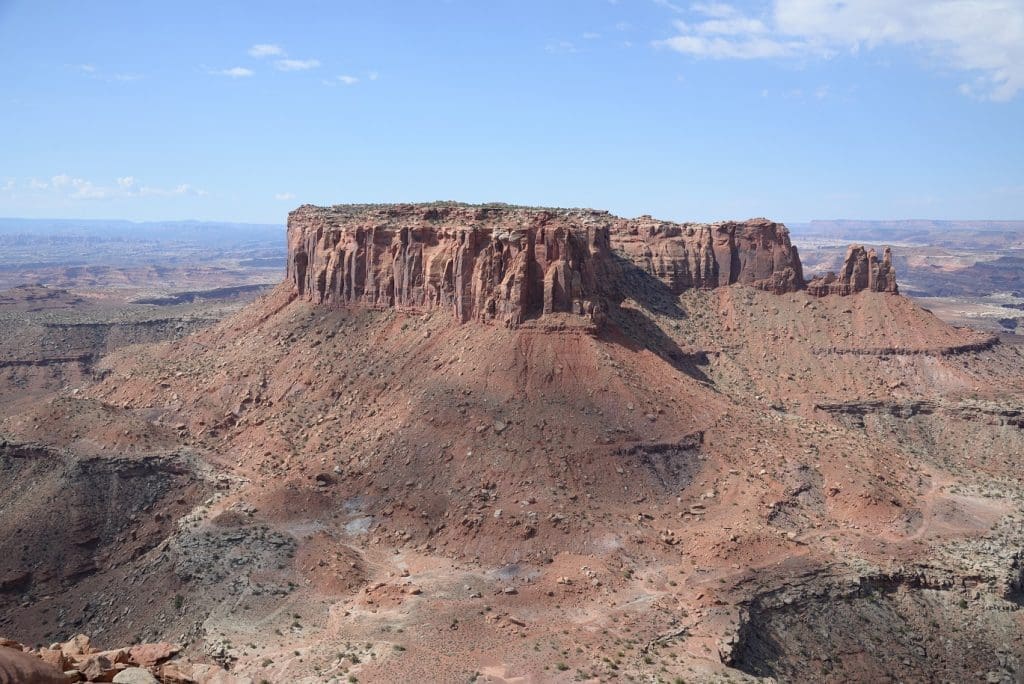 The Island in the Sky district is an enormous mesa that stands 1000 feet over the rest of the park, giving it the most beautiful vistas in Canyonlands. It's also the closest region to the town of Moab, making it the first place most tourists visit when they arrive at the park. The White Rim Road circles the entirety of the mesa while trails lead off to the more interesting parts of the district, like the Mesa Arch and the Upheaval Dome. If you can only visit one area of Canyonlands, make it this one.
The Needles is the district of choice for hiking aficionados, especially those who are interested in overnight backpacking. This region's trails lead you through the desert in the southeastern part of the park, decorated with towering rock spires. If you're lucky, you might find some of the Ancestral Puebloan handprints left behind by the people who lived here thousands of years ago.
Expert hikers can skip the Needles and head straight to the Maze. As the name suggests, this district is full of difficult and remote terrain fit only for the most skilled hikers. In the Maze, you can hike for days and never see another human being.
Finally, the Green and Colorado Rivers make up a district of their own, flowing along two deep canyons that run through the heart of the park and give it its name. Once the two rivers meet at the Confluence, they create some of the most thrilling whitewater opportunities in the state.
To see Canyonlands for yourself, we recommend taking our Canyonlands National Park Self-Guided Driving Tour.