Despite being the largest national park in Utah, Canyonlands National Park is often overlooked in favor of more famous destinations like Bryce Canyon, Zion National Park, and nearby Arches. However, Canyonlands has a uniquely rugged landscape formed by the rushing waters of the Green and Colorado Rivers, offering a stark beauty you can't find in Utah's other parks. Millions of years of erosion have carved Canyonlands into a desert filled with mesas, arches, buttes, and (of course) canyons. The two rivers also provide another unique aspect of the park by splitting it into four distinct areas, each with its own character and panorama.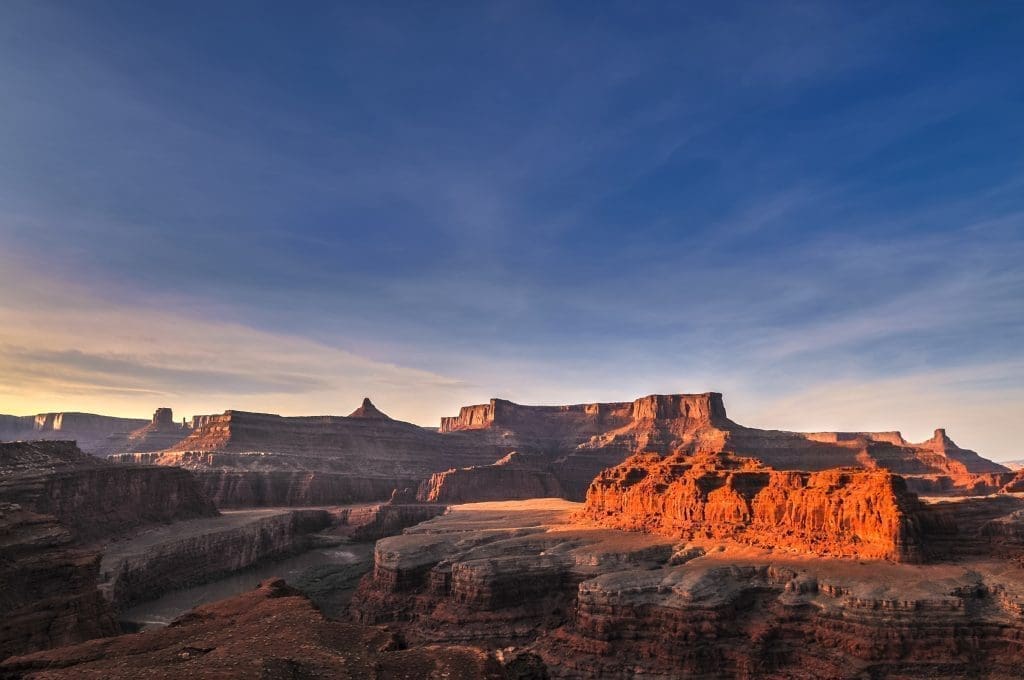 The four districts of Canyonlands National Park are the Island in the Sky, the Needles, the Maze, and the rivers themselves. The Island in the Sky is an enormous mesa that stands 1000 ft above the rest of the park and offers some of the most stunning vistas in the American West. The Needles holds the park's best hiking trails, taking you through a scenic desert dotted by towering rock formations, as well as some well-hidden artwork left behind by the Ancestral Puebloan people. The Maze is a rough-and-tumble playground for the most daring and experienced hikers, perfect for multi-day backpacking trips. Finally, the Green and Colorado rivers provide opportunities for kayaking and canoeing before they come together at the Confluence to create Utah's most thrilling whitewater. We recommend starting with the Island in the Sky for your first trip to Canyonlands, although hiking enthusiasts might want to jump straight to the Needles for a bit more of a challenge.
With an average of about 500,000 visitors a year compared to over 5 million for Zion, Canyonlands is the hidden gem of Utah's parks. To get the most out of your trip, we recommend taking Action Tour Guide's Canyonlands National Park Self-Guided Driving Tour.