Canyonlands National Park is pretty huge, over 500 square miles, so the answer to this question is based on which part of the park you'd like to see. The Island in the Sky is closest to Moab, only about 40 minutes away. The Needles, on the other hand, is about an hour and a half away from Moab. Reaching the Maze, the third section of the park, is a lot more difficult. This will take between three to six hours and requires a four-wheel drive vehicle like a Jeep. The first two districts are easily accessible for day trips but expect to devote up to a week to the Maze if you want to check out the roughest part of the park.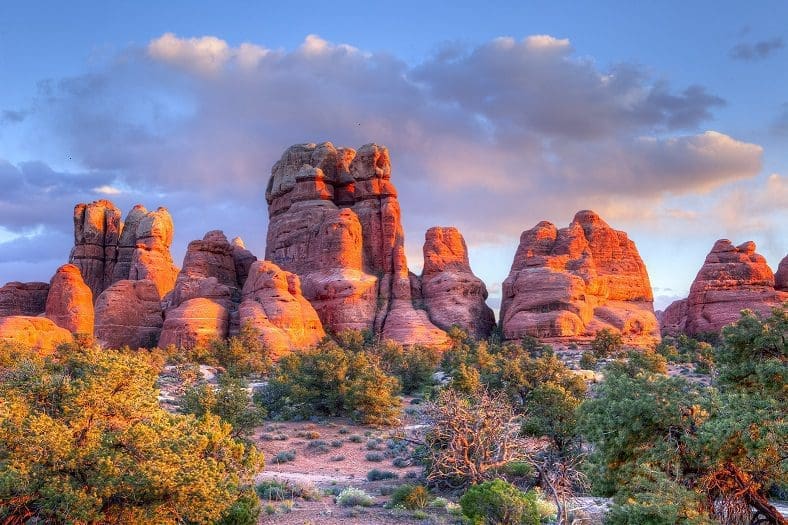 Like any national park, Canyonlands features some areas that are extremely inaccessible and should only be visited by expert hikers. The Island in the Sky and the Needles are relatively safe, but the Maze is genuine wilderness and you should be prepared with camping and emergency equipment if you want to hike there. The trails themselves are often very difficult to travel and rescue will likely require a satellite phone and, in case of serious injury, a helicopter. We highly recommend sticking to the Island in the Sky and the Needles unless you're a very serious and experienced hiker. However, if you do feel confident enough to take on the Maze, you'll be rewarded with some exciting trails and gorgeous vistas out in the middle of nowhere.
If you're sticking to the more accessible parts of the park, we recommend using Action Tour Guide's Canyonlands National Park Self-Guided Driving Tour to make sure you get the most out of your trip.