The Grand Staircase-Escalante is a vast and often overlooked national monument. So named for the series of plateaus, slot canyons and colorful sandstone rock formations, The Grand Staircase-Escalante National Monument is well worth a visit. The Grand Staircase reaches north, beginning at the North Rim of the Grand Canyon and reaching out towards Utah's High Plateaus. These "Stairs" include the Shinarump Cliffs, Vermillion Cliffs, White Cliffs, Gray Cliffs and Pink Cliffs. However, each "step" of the Grand Staircase is set on an increasingly high terrace.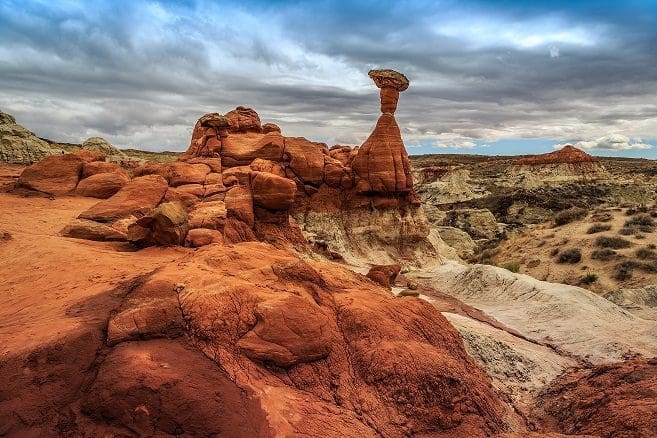 The Grand Staircase-Escalante region of this national monument is remote; it sees fewer visitors than other large parks in the state. With lower traffic from travelers, you'll feel like you have the park to yourself. While there are no official entrances into the monument, there are a few visitor's centers at your disposal. Most travelers will use the Kanab Visitor Center located on 757 E Highway 89. This center offers interpretive displays and staff who can answer any questions you may have before your trip.
Smaller Visitor centers include the Paria Contact Station, the Big Water Visitor Center, and Cannonville.
The Grand Staircase-Escalante is an amazing destination for outdoor enthusiasts, hikers, campers, even geologists. Otherworldly is a phrase often used to describe the unique and striking beauty of this national monument. Brightly colored rock formations and stunning vistas that stretch beyond the visible horizon make the Grand Staircase a must-see for travelers in Utah. While the monument is open year-round, most folks visiting the park will come during the spring and fall months when the weather is at its mildest. Coming in the springtime minimizes heat, but the weather can be unpredictable with variation from 30 to 70 degrees fahrenheit.  Fall provides more consistent temperatures in the 50's to 70's.