The Grand Staircase-Escalante National Monument is without a doubt a one of a kind travel destination. The expansive national monument stretches out over 1.9 million acres from the North Rim of the Grand Canyon all the way to the High Plateaus of Utah. To put that in perspective, the monument is just a little larger than the state of Delaware! Not only is it a massive ode to America's natural beauty, it is also a geological wonder. The monument is unique for its striking rock formations and the gradually escalating plateaus and cliffs, each higher than the next. This rising, terraced landscape gave the monument its name, "The Grand Staircase". Reaching out beyond the visible horizon in all directions, the scenic vistas of the Grand Staircase-Escalante National Monument are carved with slot canyons, dunes, and cliffs.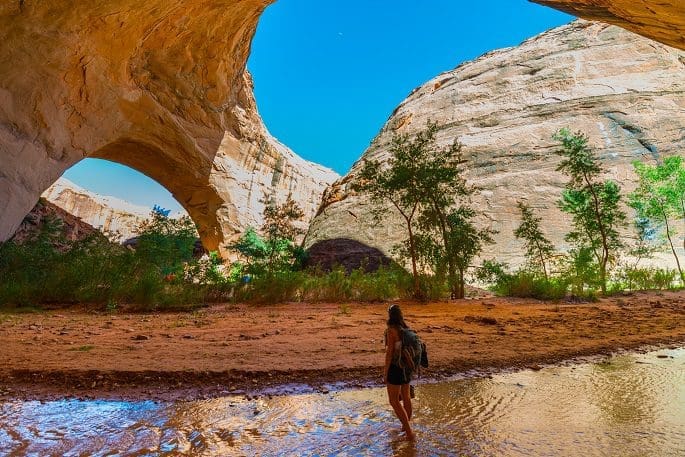 The Grand Staircase-Escalante is also a hikers paradise. The remote monument is an amazing place to challenge yourself. Looking for an epic hike to a verdant desert oasis? Try out the hike to Lower Calf Creek Falls. At six miles out and back, this hike is considered moderate. Hiking along the Escalante River to the Natural Bridge serves up stunning views and a geological wonder, a natural arc-shaped rock formation! A visit to the Grand Staircase-Escalante wouldn't be complete without a visit to one of the many slot canyons. Peek-a-Boo Canyon and Spooky Slot Canyon are a great way to explore this amazing phenomenon up close and personal. Centuries of rushing water has created narrow, winding and textured canyons through the sandstone. Many of these slot canyons can be hiked and are great spots to take photos.
Amateur and professional archeologists will also delight in this one of a kind national monument. In the past twenty years, many dinosaur fossils have been unearthed at the monument. In 2000, a 75 million year old dinosaur fossil was discovered. This fallen critter was thirty feet long and ten feet tall, with over 800 teeth in its powerful jaws! Most exciting was the discovery of a new species of Tyrannosaur in 2013. The Lythronax Argestes was about 13 million years older than its grandchild, the Tyrannosaurus Rex with a strong family resemblance to the toothy tyrant!