The Grand Staircase in Utah, or as it's formally known; the Grand Staircase National Monument is a massive stretch of public lands reaching over 1.8 million acres from the North rim of the Grand Canyon to Utah. This phenomenal natural resource is not only a geological wonder, The Grand Staircase is also a phenomenal destination for outdoor enthusiasts. Hiking, camping, and backpacking are all popular activities at the National Monument, but the Grand Staircase is also a remarkable paleontological location as numerous dinosaur fossils have been unearthed there in the past twenty years. The Grand Staircase National Monument is often overlooked, however, in favor of its famous neighbors, the Grand Canyon, Zion National Park and Bryce Canyon. The expansive national monument is slightly larger in acreage than the state of Delaware and has lots to offer its visitors!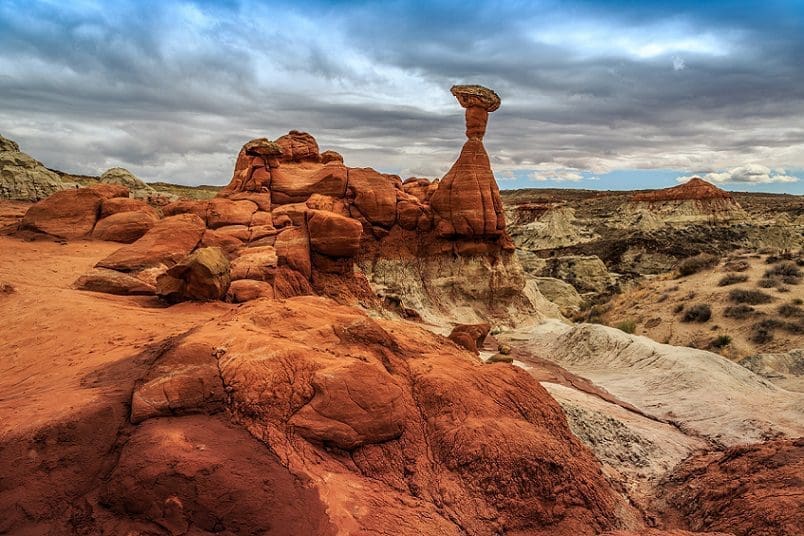 Because of the monument's expansive size, it is divided into three distinct districts or regions, each with its own unique features and characteristics. To the Northeast of the national monument sits the Escalante Canyons Region. Here, you will find a network of slot canyons and gorges. These canyons were created by running water draining down from the mountains and towards the Escalante River. Over the centuries, the delicate sandstone wore away with the water, leaving cavernous and serpentine canyons behind. To the South of the Escalante Canyons region is the Kaiparowits Plateau. This ancient plateau stretches for fifty miles!
Finally, the Grand staircase in Utah is located to the southwest of the National Monument. It borders Bryce Canyon National Park to the west. While there is no official entrance into the National Monument, there are a few visitor centers. Most travelers who are interested in seeing the Grand Staircase in Utah will approach it from the Kanab Visitors center although there are several more in and around the monument.
Download the Grand Staircase-Escalante self-guided tour app on Google Play Store or AppStore.