Pet-Friendly Stops on Pacific Coast Highway
Since most of the PCH is out in the middle of nowhere, there are plenty of opportunities to have fun with your four-legged passengers. Most Pacific Coast Highway road trips start in San Francisco, which is a relatively pet-friendly city. The famous Golden Gate Bridge allows dogs every day from 5 pm until dusk, and pets are also welcomed on Baker Beach and in Golden Gate Park. As you travel south from the Bay Area, you'll reach Monterey and Carmel-by-the-Sea, one of the most dog-friendly towns in California. We have actress and animal activist Doris Day to thank for Carmel's legacy of being welcoming to pets. Carmel's Cypress Inn is considered to be the most pet-friendly hotel in the country.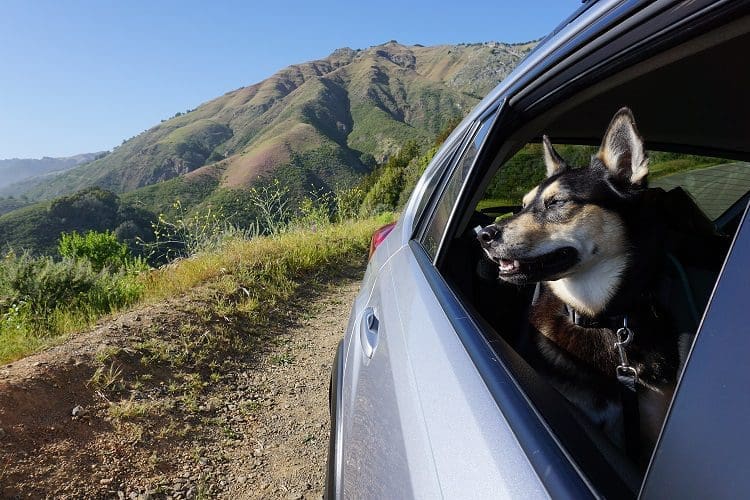 A Pet-Friendly Road Trip
South of the Monterey area is Big Sur, the most beautiful and remote stretch of the PCH. You can bring your dogs anywhere you go here, although we'd recommend keeping them on a leash since there's often not much space between the road and the cliffs. Once you're through Big Sur, you can stop in Santa Barbara for another pet-friendly seaside community. The Santa Barbara Botanical Garden is a special treat for pups, so we'd recommend taking your dog there to take in the smells.
Further south, Malibu features some of the world's most famous beaches, many of which are dog-friendly. We're particularly fond of Leo Carrillo State Park, where leashed dogs are welcome anywhere north of lifeguard tower 3. Unfortunately, Los Angeles County only features a single dog-friendly beach – Rosie's Beach in Long Beach – but once you reach Huntington Beach you're back in friendlier waters again. Huntington Dog Beach is one of the best pet-friendly beaches in the country, especially if your dog likes to surf.