About Carmel-by-the-Sea
Carmel-by-the-Sea might be a small town – only about 3,000 residents! – but that doesn't mean there's nothing to do there. Carmel is one of the Monterey area's hidden gems, and it's the perfect place to end your 17-Mile Drive tour. If you're looking for some small-town charm on your next trip to Monterey County, we highly recommend spending some time in Carmel.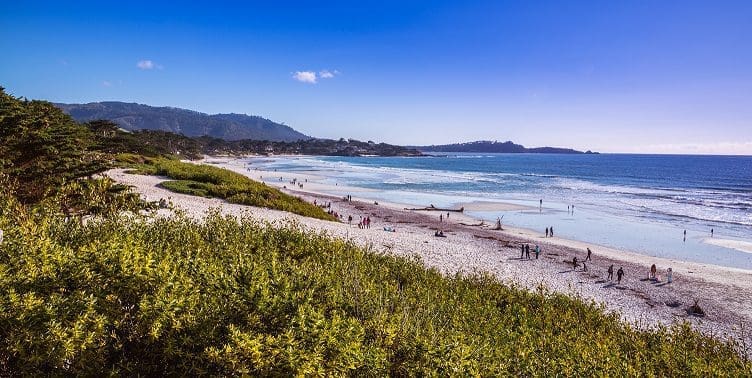 Walk through Carmel-by-the-Sea​
Besides the village itself, which is bursting with carefully planned and maintained charm, the main attraction of the Carmel area is the beach. Carmel Beach is one of the most iconic and well-regarded shores in the central coast, and you shouldn't leave the town without spending at least one evening there. We especially recommend a beach fire after the sun goes down. Carmel Beach is also one of the most dog-friendly beaches in the state, so feel free to bring your four-legged friends with you when you visit. Finally, weather and tides permitting, Carmel is also a great place to do a little surfing.
Carmel-by-the-Sea is also well-known as a haven for artists, writers, and other creative types. The Sunset Center is considered to be one of the best music venues in the state, and if you're willing to brave the night air, we recommend catching a play at the Outdoor Forest Theater.
Finally, no trip to Carmel would be complete without a visit to the Carmel Mission, the most authentically-restored of California's missions. Saint Junípero Serra, once the Father Presidente of northern California, lived and worked in the Carmel Mission and his body is interred underneath the building today.
Carmel is one of the end points of our Scenic 17-Mile Drive Self-Guided Driving Tour, available through the Action Tour Guide app on both iOS and Android devices. The tour features almost 40 stops along the drive and we recommend it for anyone looking to visit the Monterey area.