Are you looking for a fun and exciting getaway? Carmel-by-the-Sea offers a plethora of attractions that will help you make the most of your stay. From world-class golf courses to zipline tours, there's something for everyone to enjoy in this charming coastal town. In this blog post, we dive into all the amazing activities and attractions available in Carmel-by-the-Sea.
About Carmel-by-the-Sea
Carmel-by-the-Sea might be a small town – only about 3,000 residents! – but that doesn't mean there's nothing to do there. Carmel is one of the Monterey area's hidden gems, and it's the perfect place to end your 17-Mile Drive tour. If you're looking for some small-town charm on your next trip to Monterey County, we highly recommend spending some time in Carmel. A trip to this picturesque coastal town wouldn't be complete without taking some time out for sightseeing!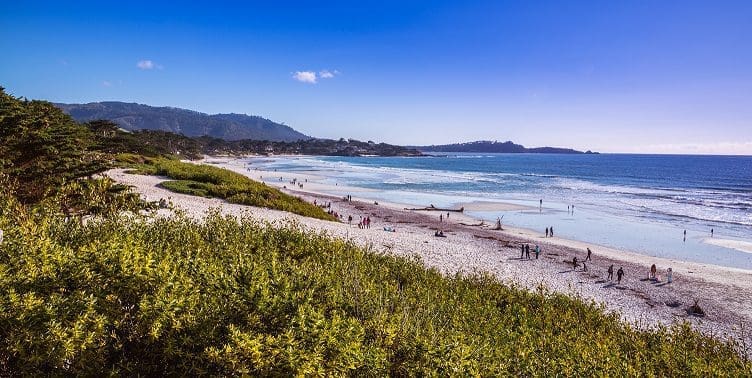 Walk through Carmel-by-the-Sea​
Besides the village itself, which is bursting with carefully planned and maintained charm, the main attraction of the Carmel area is the beach. Carmel Beach is one of the most iconic and well-regarded shores in the central coast, and you shouldn't leave the town without spending at least one evening there. We especially recommend a beach fire after the sun goes down. Carmel Beach is also one of the most dog-friendly beaches in the state, so feel free to bring your four-legged friends with you when you visit. Finally, weather and tides permitting, Carmel is also a great place to do a little surfing.
The Sunset Center is considered to be one of the best music venues in the state, and if you're willing to brave the night air, we recommend catching a play at the Outdoor Forest Theater.
Exploring the Outdoor Attractions in Carmel-by-the-Sea
With its breathtakingly beautiful beaches and parks, it also offers an array of outdoor activities for travelers looking for adventure or just simply needing to get away from the hustle and bustle of their daily lives. There's something for everyone in the area.
From trendy pubs that cater to locals and sell delightful drinks like "cougar liqueur martinis" to annual classic car exhibitions through town. Shopping enthusiasts will love browsing through distinct stores.Enjoy art shows, musical performances and unique festivals throughout the year as well as surfing, fishing trips and exploring nearby parks like Point Lobos State Reserve. If you're hoping to make it back home with souvenirs then head towards Fisherman's Wharf where seafood restaurants will surprise your taste buds while funky shops provide ample opportunity for shopping sprees!
It has it all …beautiful landscape, art galleries & quaint shops…historic sites & fascinating museums…outdoor activities…and really tasty places to eat!!! If you're seeking an unforgettable holiday experience filled with excitement and exploration CARMEL BY THE SEA should be added right now onto top of your bucket list!!!
Finally, no trip to Carmel would be complete without a visit to the Carmel Mission, the most authentically-restored of California's missions. Saint Junípero Serra, once the Father Presidente of northern California, lived and worked in the Carmel Mission and his body is interred underneath the building today.
Carmel is one of the end points of our Scenic 17-Mile Drive Self-Guided Driving Tour. The tour features almost 40 stops along the drive and we recommend it for anyone looking to visit the Monterey area. Get the most out of your California Vacation with a Tour of California Bundle. You'll get access to all the top attractions in the state. Save money while experiencing all that this beautiful city has to offer.