While you can't drive off-road through the park, any Bryce Canyon tour will take you up and down the scenic highways that run through the area. Both the Bryce Amphitheater drive and the scenic southern drive are well worth taking if you have a car, and the park offers a shuttle service if you'd rather be on foot. The roads themselves are well-maintained, safe, and more than wide enough to put even the most nervous cliffside driver at ease. We wouldn't recommend staying in your car the whole time though – make sure you take plenty of stops so you can get out and look around!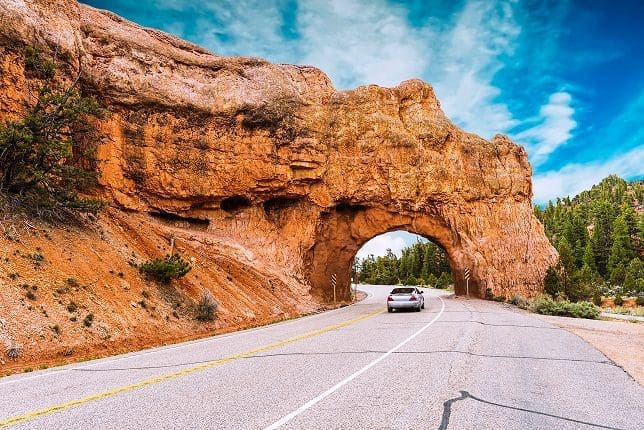 While the park isn't especially big, we'd recommend filling the car with gas before you enter Bryce Canyon, since there obviously aren't any gas stations inside the park itself. The least expensive gas tends to be in nearby Bryce Canyon City, although there are also stations in Bryce and Tropic.
If you'd rather not take your own car through Bryce Canyon, you can park just outside the entrance and take the free shuttle. The shuttle will take you through all the scenic drives in the park, with plenty of stops along the way, and we highly recommend it on days that seem especially crowded.
If you're driving an RV, you can camp at both Bryce Canyon and nearby Zion National Park, although space can be limited. We recommend finding a spot to park the RV early on and taking the shuttle around Bryce Canyon so nobody takes your camping spot while you're away.
If you want to make sure you're getting the most out of your next trip to Bryce Canyon, we recommend our Bryce Canyon National Park Self-Guided Driving Tour.