There are plenty of opportunities for a scenic drive on a Zion National Park tour, but the main one is to take State Route 9 all the way through the park. Also known as the National Scenic Byway, Rt. 9 is a little over 50 miles of gorgeous natural views with a ton of stops along the way. You'll get to see a full spectrum of the rock formations in Zion, including mounds, towers, canyons, and even some hoodoos.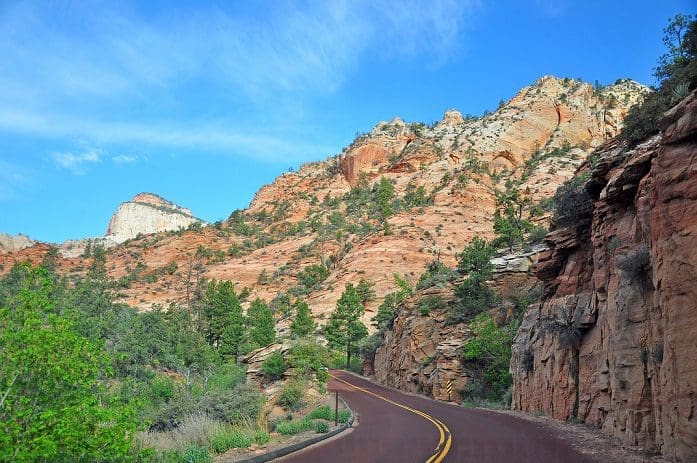 Shortly after leaving Springdale, Rt. 9 takes you through the famous Zion-Mt. Carmel Tunnel, a 5,000-foot tunnel originally constructed in the 1920s. The tunnel itself is only tall enough for cars, so RVs will have to find another way around. Immediately east of the tunnel is Canyon Overlook Trail, one of the many trailheads you can enter from the side of the road. Canyon Overlook is one of the easier ones, only about a mile, so it's perfect for families or visitors who aren't the most experienced hikers.
Further down the road, you'll find an outlook that gives you a glimpse of Checkerboard Mesa, a unique rock formation with a criss-cross pattern. If you have the time, you can take a two-mile hike out to the mesa itself to see it up close.
The famous East Rim Trail is also accessible from the highway, although it's a more challenging hike. This trail is 10 miles long, but it's well worth the trip if you're a confident hiker. Experienced visitors can hike down into Echo Canyon from Rt. 9, but only if you have climbing gear with you. The Echo Canyon hike is considered to be the best one in Zion, but it's not for the faint of heart.
If you want to make sure you don't miss anything, Action Tour Guide offers a Zion National Park Self-Guided Driving Tour.