One of the most popular stops on any Bryce Canyon scenic tour, Thor's Hammer is located on the southern part of the Amphitheater bowl, right by Sunrise Point. Named for the thunderstorms that frequently hit the area, the Hammer is the park's most famous example of a "hoodoo," towering natural rock formations that cover the landscape in Bryce Canyon. Hoodoos are also often called earth pyramids or fairy chimneys and are distinguished from pinnacles and other rock spires by their shape. Unlike regular spires, which have a tapered shape that's larger at the base and thinner on top, hoodoos have varying widths all the way up, almost like a naturally formed totem pole.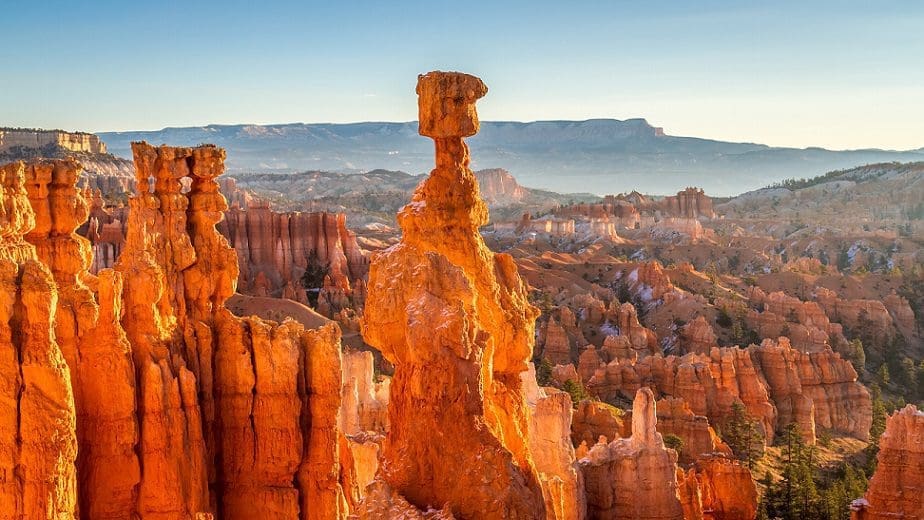 It's fitting that Thor's Hammer should be named after the Norse god of thunder since the hoodoos in Bryce Canyon have always held a spiritual significance to the people who live here. According to Paiute myth, the rock spires here are actually the remains of the Legend People, another civilization that lived in the area before the Paiutes themselves. The story tells that evildoers among the Legend People were punished by the coyote god Sinawava, who turned them into the stone pillars you see today in the park. The rest of this particular story is rarely put into print out of respect for Paiute tradition, which dictates that storytelling is solely a winter activity. After working hard for the previous three seasons to collect and store food, the Paiutes would pass time in the cold winter months by telling stories about the Legend People and the spirits who lived in the canyon.
If you'd like to see Thor's Hammer for yourself, along with the other places of interest in the area, we recommend our own Bryce Canyon Self-Guided Driving Tour.