Zion National Park's Emerald Pools are one of its most popular destinations, and it's easy to see why. The pools themselves are part of a stream that runs downhill and pools on three different levels, creating a three-tiered desert oasis. Each pool has its own charm – the Lower Pool is the most accessible and features some vibrantly colored flowers, the Middle Pool offers a gorgeous overlook of the canyon below that shouldn't be missed, and the Upper Pool is nestled in a beautiful natural amphitheater and is home to hundreds of chirping tree frogs – listen for their distinctive mating calls which sound almost like the bleating of sheep. If you're not a confident hiker, we'd recommend sticking with the Lower Pool, but if you don't mind climbing up some rocks, you should really make sure you see all three.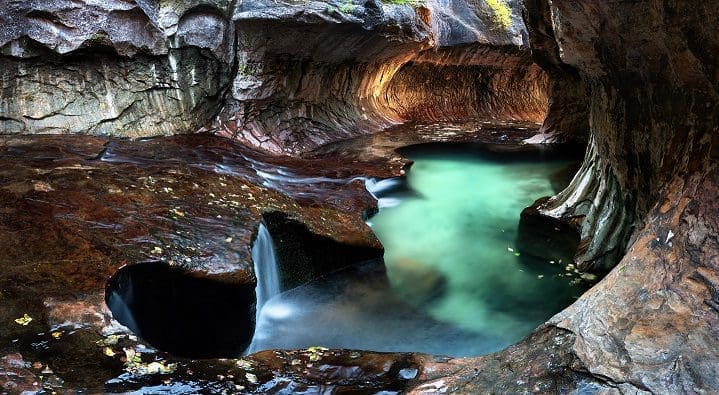 The Emerald Pools Trail is one of the oldest parts of the park, dating back to 1932. In fact, this trail is one of the few early ones that predate the Civilian Conservation Corps, a Depression-era jobs program that was responsible for building much of Zion National Park's infrastructure. It quickly became one of the park's most popular attractions and was added to the National Register of Historic Places in 1987. In 2010, nine consecutive days of rain led to an enormous mudslide that damaged much of the trail, forcing its closure. It took ten years for the trail to finally reopen in September 2020.
The Emerald Pools are just one of the stops on our own Zion National Park Self-Guided Driving Tour. The tour features 55 audio stories throughout the park, including the Emerald Pools, the Narrows, and plenty more on the history and natural wildlife of Zion.