If you're hoping to see some snow on your next Monument Valley tour, then you should try to visit in December or January. While it's possible for snow to fall in the park at any time between November and March, it's typically light enough to melt completely by the end of the day. Keep an eye on the weather forecast if you want to catch snow on the buttes because it's a pretty rare sight. However, if you do manage to be in the park just after a snowfall, make sure you take plenty of pictures – it's a gold mine for photographers.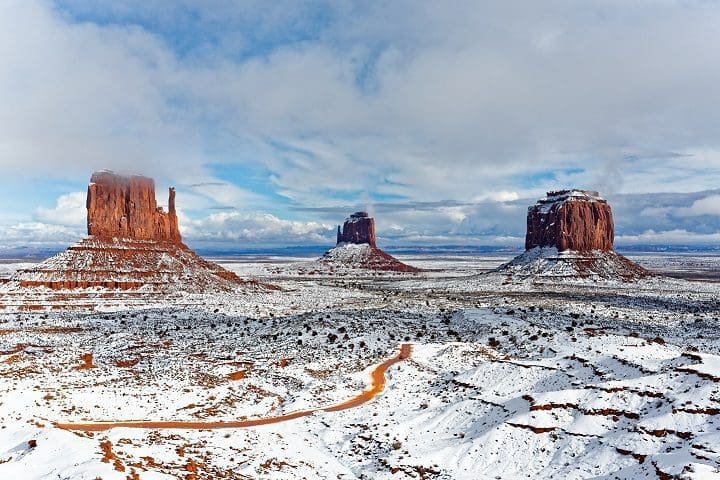 Visiting Monument Valley in the winter is also a good idea if you're trying to avoid crowds. Summer is by far the busiest time of the year for the park, so if you don't mind the cold weather, visiting in the off-season is a great way to have the place to yourself. The daytime temperatures during the winter are typically in the 40s or 50s in Monument Valley, depending on the month, so it's chilly but not freezing cold. However, the nighttime temperatures do often dip below freezing in the park, which can make camping out more of a challenge. Just make sure you bring warm clothes and prepare yourself for the nighttime desert cold and you should be fine. Like anywhere else in the state, Monument Valley sometimes experiences flash flooding during particularly heavy weather. Make sure you keep an eye on the weather reports to make sure you don't miss any warnings, especially if it's raining or snowing hard while you're there.
No matter when you decide to visit Monument Valley, we suggest trying out our Monument Valley Navajo Tribal Park Self-Guided Driving Tour.