In most cases, you won't need an SUV to take a Monument Valley tour. While the 17-mile scenic road through the park isn't paved, it's generally solid enough for a regular car to handle. If the weather has been especially rainy lately then parts of the road might have been washed away, which would make traversing it difficult in a low-clearance vehicle. However, they do generally do a good job of maintaining it, so you should be fine with the family car.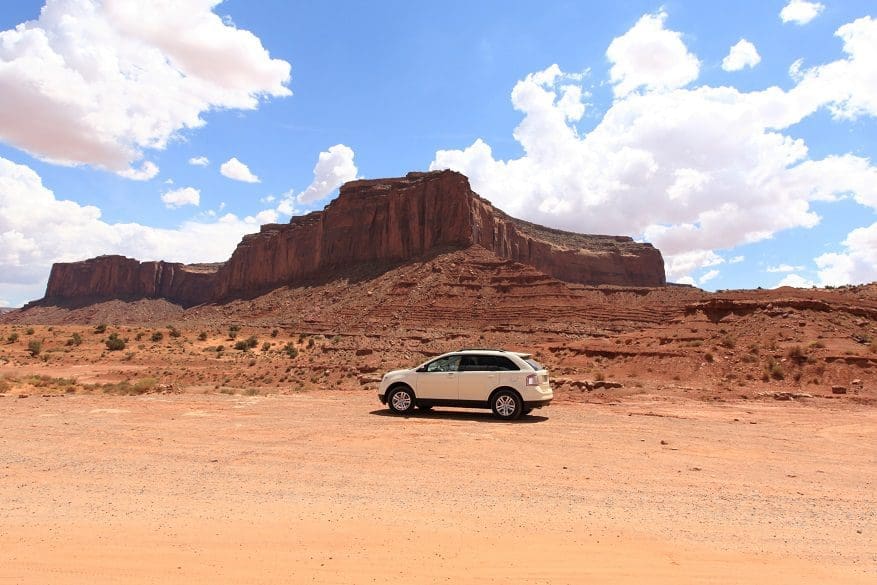 If you want to go any deeper into the park, you won't be able to bring your own vehicle anyway. Visitors aren't allowed to wander off the road without a Navajo tour guide to show them around, and they'll provide their own vehicle – typically a Jeep since the rest of Monument Valley can be pretty rough terrain. Lots of guides offer tours on horseback as well, which can be a lot of fun if you know how to ride.
If you have multiple vehicles and you're not sure which one to take, it's probably a good idea to bring the one with a better suspension system to Monument Valley. The dirt road is packed pretty solidly, but it can still get a little bumpy at times so it's more comfortable with a car that can handle it. Still, if you just have the one car and you're worried about taking it down the road, don't be. It's very uncommon for visitors to get stuck.
While you're on the scenic drive through the park, we recommend using our Monument Valley Navajo Tribal Park Self-Guided Driving Tour. The tour will make sure you don't miss any of the points of interest along the way while also giving you some background and context on the history of the park.