Lake Powell is fed by the Colorado River, which Horseshoe Bend is a part of. However, the two bodies of water are separated by the Glen Canyon Dam so you can't just take the river down from Horseshoe Bend all the way to Lake Powell. Still, the two places are very close and it's easy enough to include them both in a day trip to the Page area.
Unlike Horseshoe Bend, which was created by millions of years of erosion and sediment deposits, Lake Powell is actually an artificial creation. Before the 1950s, Lake Powell was just another segment of Glen Canyon, a 170-mile canyon carved from the rock by the Colorado River. However, in order to fill the water needs of the quickly-growing southwestern US, the Glen Canyon Dam was built to turn a section of the canyon into a reservoir. The newly-filled reservoir was named Lake Powell after John Wesley Powell, who explored the river in the 1860s.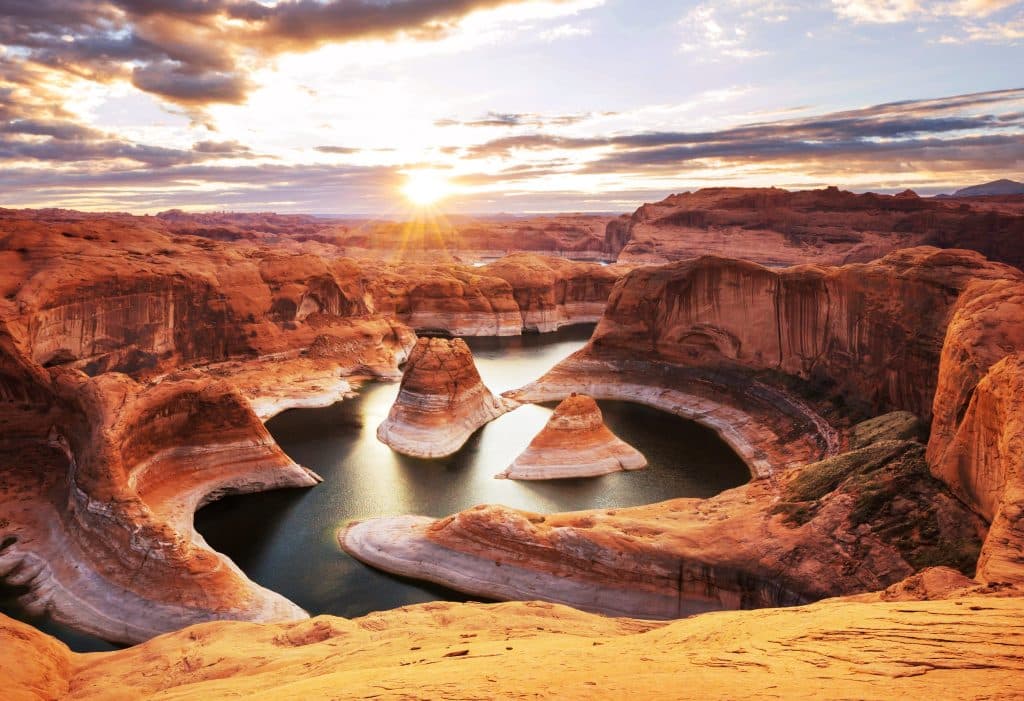 Today, Lake Powell is the second largest artificial reservoir in the US, just after Lake Mead. It's also the center of the Glen Canyon Recreation Area, a popular summer destination for Arizona residents. However, the lake and the Glen Canyon Dam remain controversial, especially among environmentalist groups. The ongoing megadrought in the American southwest has also been steadily lowering the water level in Lake Powell since 2000, and in 2022 the water reached the lowest level since the dam was finished in 1963.
To make the most of your trip to the Page, Arizona area, we recommend checking out our Horseshoe Bend Self-Guided Walking Tour. The tour also includes a bonus tour that covers Page, the dam, and Lake Powell itself. If you enjoy the tours and you're interested in more, we also offer Action+, a yearly subscription that grants access to all 100+ of our US tours.
Essential Travel Guide: