The water at the bottom of Horseshoe Bend is the Colorado River, the same river that runs through the Grand Canyon. The temperature of the water in Colorado averages around 50 degrees Fahrenheit year-round, so we wouldn't necessarily recommend swimming in it. However, taking a kayak, canoe, or raft down the river is a great way to enjoy the water while getting a completely different view of Horseshoe Bend.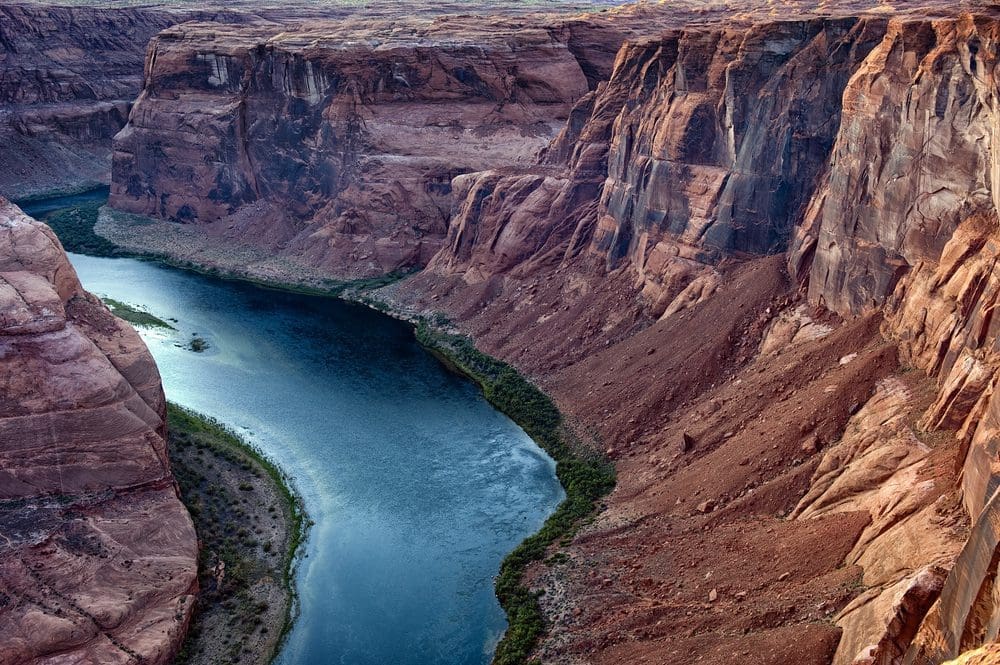 If you want to take a trip down the Colorado River, you should start by heading to Lee's Ferry, about five miles downstream of Horseshoe Bend. There, you can rent a canoe, kayak, or paddleboard if you don't have one of your own. Once you've secured your equipment, you'll pay a driver to take you back up the river in a speedboat. They'll generally take you about 15 miles upstream before dropping you off so you can paddle back down to Lee's Ferry. Horseshoe Bend comes about two-thirds of the way through this trip and the water is relatively slow-moving, so you don't need to have a ton of experience to get a view from the bottom of the canyon. However, if you're not the most experienced paddler, we'd recommend using a kayak or canoe instead of a paddleboard. The water is cold and fairly remote, so it would be difficult to rescue anyone who fell in on their own.
If you drive a few hours upstream to the Grand Canyon, there are more opportunities to travel the Colorado River. You can even take a six or seven-day rafting trip through the entire area, a great chance to find a little adventure and some family bonding at the same time.
We'd recommend using our Horseshoe Bend Self-Guided Walking Tour to get the most out of your trip. If you enjoy that tour and you're looking for more adventure, we also offer Action+, a yearly subscription that grants access to all 100+ of our US tours.
Essential Travel Guide: