California is well-known for its sun, beaches, rolling hills and landmarks, but there are plenty of other attractions that lure travelers to the Golden State.
Pacific Coast Highway
The Pacific Coast Highway, also known as Route 1 or 101 or Highway 1 or 101, is a major north-south state highway that runs along most of the Pacific coastline of California. At 656 miles, it's the longest state route in California. It's one of the most beautiful coastlines in the world! Prepare yourself for stunning views.
La Jolla
Beautiful La Jolla, the Jewel of San Diego, is a renowned coastal resort near San Diego. It has about 40,000 inhabitants and overlooks the Pacific Ocean. This beach town is famous for seals and sea lions that rest in the sun on the beach and rocks in front of the town.
Hollywood
California is well known for its movie stars and creation of popular movies and television shows. If you drive around California enough, you'll likely spot some celebrities. It's known for being the world capital of the film industry; people across every corner of the globe have long been enthralled with the glitz of this famous city.
Millions of viewers tune in to watch the award shows being broadcasted live from Hollywood.
Some popular tourist attractions in Hollywood include the Hollywood sign, the Walk of Fame, Madame Tussaud's Wax Museum, and the award shows that are filmed in California (Golden Globe, Oscars, Grammy, and Emmy Awards)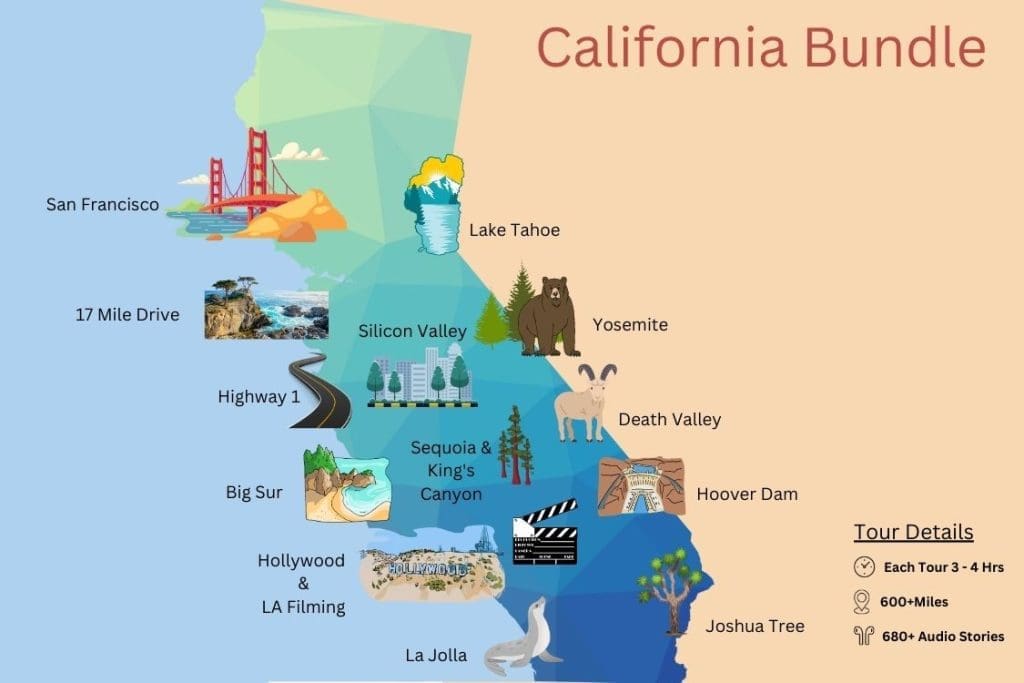 Silicon Valley
Life would look very different if it wasn't for the technology that was produced in Silicon Valley. Silicon Valley is located in the southern part of San Francisco Bay and brings California the title of the global center for high technology and innovation.
Silicon Valley got its name from the material "silicon" that is used in many technological innovations created in the valley. Many of the largest and most famous technology companies like Apple, Facebook, Google, and Visa have headquarters in Silicon Valley.
Joshua Tree
Joshua Tree National Park is a protected area in southern California that is characterized by rugged rock formations and stark desert landscapes. It's named for the region's twisted, bristled Joshua trees, the park straddles the cactus-dotted Colorado Desert and the Mojave Desert, which is higher and cooler. Keep an eye out for desert animals like roadrunners, tortoises, and even bald eagles.
Yosemite National Park
Explore one of America's most incredible national parks without the hassle of a tour group! Witness towering waterfalls and majestic mountain peaks which capture the height of America's beauty. Hike through the lush wilderness, picnic by pristine lakes, and stand atop breathtaking overlooks. Plus, dive into the surprising, unlikely history behind this immense park. There's simply no place on earth like Yosemite.
No matter where you go in California, you have plenty of options. You can see the best of California using our Self-Guided Driving tour of California bundle featuring 12+ fun and engaging tours.