Los Angeles, fondly known as the City of Angels, is not only a hub for the entertainment industry but also a playground for movie enthusiasts. From the glittering lights of Hollywood to the sun-kissed beaches of Santa Monica, LA's diverse landscapes have been captured on film for generations. In this article, we're going to cover some of the most popular filming locations in LA, and highly recommend this self-guided tour by ATG if you want to make the most of tinsel town at your own pace!
Cicada Club
This amazing nightclub spot in downtown LA has been around since 1928. It's got this cool art deco vibe going on, which is probably why it's been used as a filming location for a bunch of movies and TV shows, including Mad Men, The Artist, and LA Confidential. The place just oozes with vintage charm and a super glamorous atmosphere that's perfect for those retro-themed productions. Honestly, it's like stepping into a time machine back to the roaring 20s!
Palace Theatre
This is a historic landmark located in the heart of downtown Los Angeles. Built-in 1911, this beautiful theatre has been used as a filming location for many movies over the years, including The Prestige, Seabiscuit, and Spider-Man 3. The theatre's grandeur and old-world charm make it a popular choice for filmmakers looking to add a touch of elegance to their productions.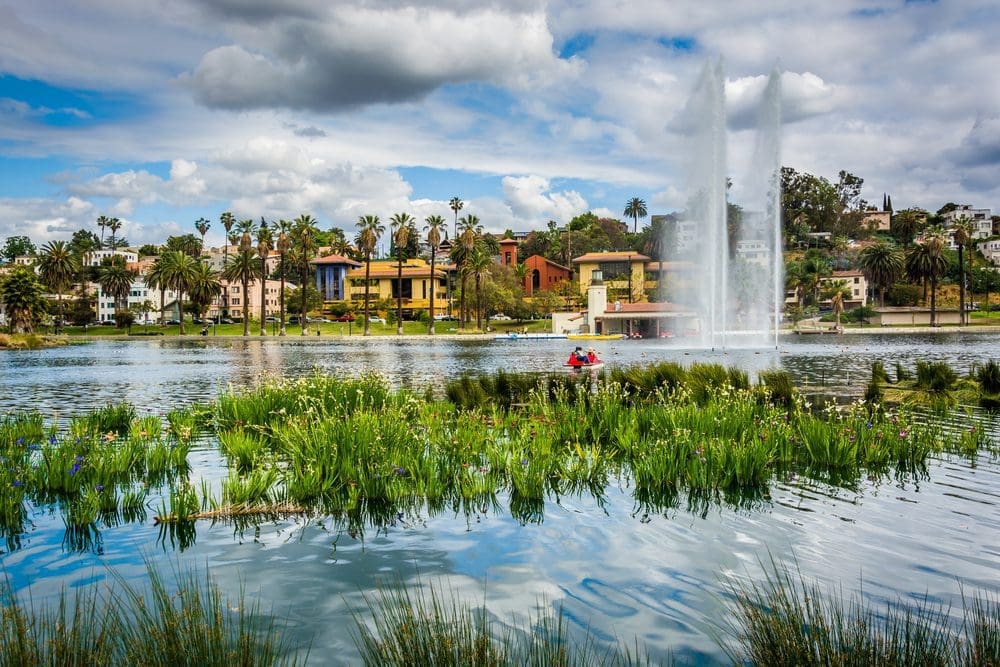 Millennium Biltmore Hotel
The Millennium Biltmore Hotel is a luxurious haven that has charmed filmmakers for years. Its grand ballrooms, exquisite chandeliers, and lavish decor have made it a sought-after location for many movie productions. The hotel exudes a sophisticated and elegant vibe that's perfect for filmmakers who want to bring a touch of class and refinement to their films. No wonder it's been featured in many iconic movies, including Ghostbusters, Beverly Hills Cop, and Wedding Crashers.
Echo Park Lake
This is just one of those picture-perfect spots in LA that filmmakers go crazy over! You've probably seen it in some of your favorite movies and TV shows, like La La Land, The Fast and the Furious, and The Big Lebowski. The place is peaceful and gorgeous, with amazing views of the city skyline that'll take your breath away. It's no wonder that filmmakers choose this spot for romantic scenes and those epic establishing shots that set the scene for the entire film. If you're ever in LA, it's definitely worth checking out!
Bronson Canyon
Bronson Canyon is a scenic park located in the Hollywood Hills. This natural wonder has been used as a filming location for many movies and television shows, including Star Trek, The Adventures of Robin Hood, and The Searchers. The park's rugged terrain and breathtaking views of the city make it a popular choice for productions looking to showcase Los Angeles' natural beauty.
Did you know that Action Tour Guide offers a self-guided California tour bundle? It covers the most iconic LA filming locations, along with many other popular attractions, including Hollywood Homes, Big Sur, Silicon Valley, and 17 Mile.
Essential Travel Guide: