The Grand Canyon is Arizona's most famous tourist attraction–it's magnificent, beautiful, and a natural wonder that doesn't disappoint. Keep in mind that there's plenty to do and see as you tour Arizona.
Grand Canyon Details
The vast canyon stretches 277 miles from end to end. The canyon walls descend a mile into the canyon where the Colorado River flows through the rugged terrain. Whether you plan to explore this attraction via car, hiking, or both, you'll be amazed by its views.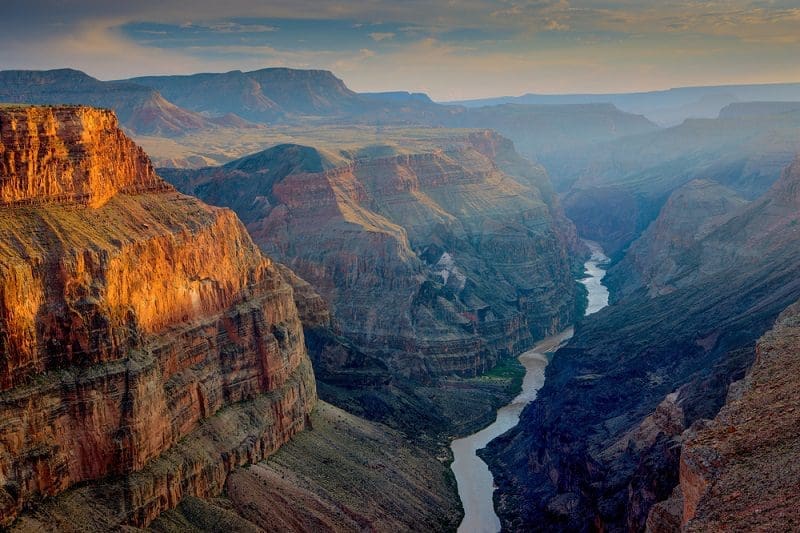 South Rim
The South Rim is typically busier, and features shops, restaurants, museums, visitor center, hotels, and campsites. Check out the Desert View Drive to enjoy 25 miles headed east from Grand Canyon Village. You'll see scenic overlooks and attractions during your drive. If you'd like to hike down into the canyon, the Bright Angel Trail has plenty of turn-around points, water, and restrooms. As you hike down, remember that you'll have to hike up, so be careful.
North Rim
The North Rim is cooler, so it's open May through October. While it has less amenities than the South Rim, it's less crowded and features the same stunning views of the Grand Canyon. One of the well-known hikes on the North Rim is the Widforss Trail. It's a longer, easy trail that's roughly 10 miles roundtrip on a wide, well-maintained trail. The trailhead starts at Point Sublime Access Road and follows along the forest and rim above the Transept gorge. You'll see gorgeous views of the canyon once you reach the end.
A great way to tour Arizona is to get self-guided tours to provide information as you take in the sites. Action Tour Guide offers self-guided Arizona tours of the Grand Canyon, Sedona, Page, Horseshoe Bend, and Hoover Dam. By purchasing a tour, you can explore Arizona at your own pace and create your dream tour of its breathtaking sites.