The most famous lighthouse in Portland Maine is undoubtedly the Portland Head Light, which is also the oldest lighthouse in Maine and one of the most photographed lighthouses in the country. It was commissioned by George Washington and first lit in 1791. It stands on a rocky cliff overlooking the Atlantic Ocean and is surrounded by the beautiful Fort Williams Park, where you can enjoy hiking, picnicking, and exploring the fort's remains. The lighthouse also has a museum inside the former keeper's quarters, where you can learn more about its history and see some lighthouse lenses and displays.
Take the Self-Guided Portland Maine Tour and discover the history behind the city's lighthouses!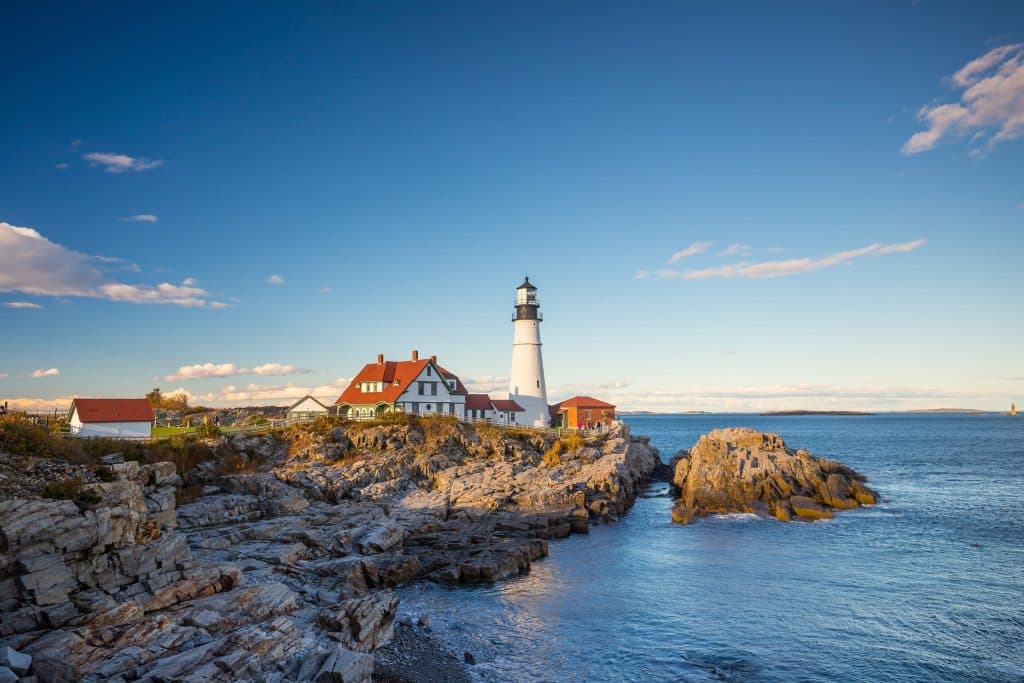 But Portland Head Light is not the only lighthouse worth seeing in Portland. In fact, there are five more lighthouses within a 20-minute drive from the city center. One of them is Ram Island Ledge Light, which is a gray granite tower built in 1905 on a tiny rock island at the entrance to Portland Harbor. It is not open to the public, but you can get a good view of it from Portland Head Light.
Another lighthouse that you can see from Portland Head Light is Spring Point Ledge Light, which is a white conical tower built in 1897 on a granite breakwater that extends from the shore. You can walk along the breakwater to get close to the lighthouse or admire it from the beach. On most summer weekends, you can also go inside the lighthouse for a tour and see how it works.
If you drive along Shore Road from Portland Head Light, you will come across another pair of lighthouses: Two Lights. These twin towers were built in 1828 and are the first lighthouses in Maine to use fog bells and horns. They are both on private property, so you can't access them, but you can see them from Two Lights State Park, which offers stunning views of the ocean and rocky coast.
The last lighthouse on my list is Portland Breakwater Light, also known as Bug Light because of its small size. It is a charming white tower with a green lantern that resembles an ancient Greek monument. It was built in 1875 to mark the end of a breakwater that protects Portland Harbor. You can park your car and walk out on the breakwater to the lighthouse or take a stroll on the paved path that offers views of Portland Harbor and the city skyline.
As you can see, Portland has a lot to offer for lighthouse enthusiasts. I hope this blog has inspired you to plan your own portland maine lighthouse tour and discover these historic landmarks for yourself. You won't regret it!