Carlsbad Caverns National Park is like nothing else in continental United States. Located in the southeastern corner of New Mexico, this karst landscape comprises over 80 recognized caves. The more than 120 limestone caves within the park are outstanding and notable worldwide because of their size, mode of origin, and the abundance, diversity, and beauty of the speleothems (decorative rock formations) within.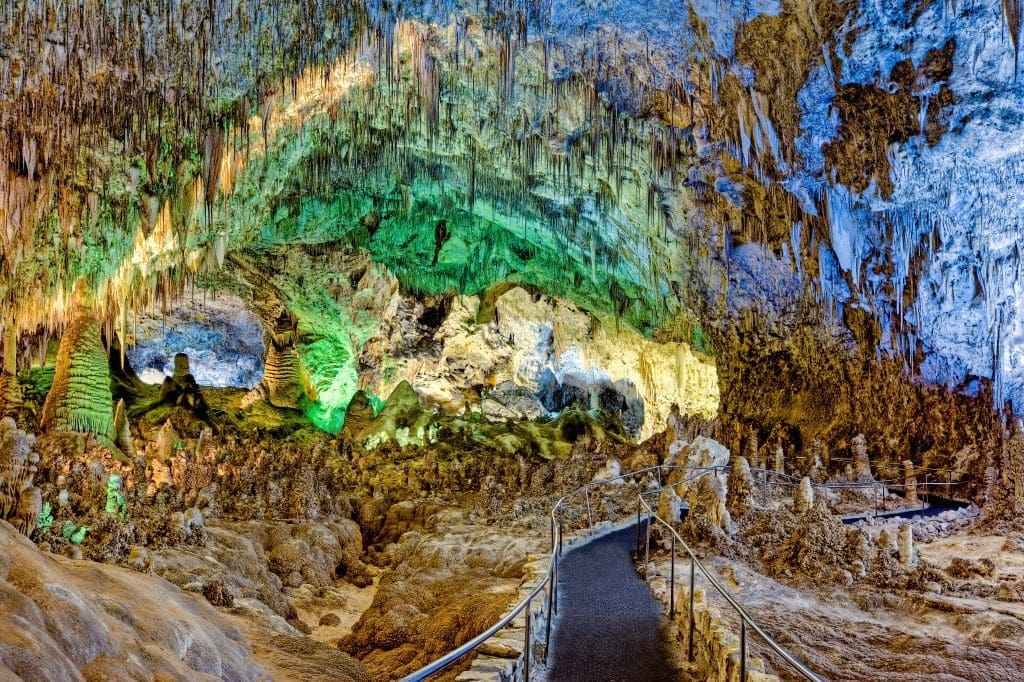 The beauty and diversity of the rock formations in Carlsbad and Lechuguilla caves are out of this world. In Lechuguilla Cave, you'll see rare and unique speleothems, including the largest accumulation of gypsum "chandeliers," some of which extend more than six meters (18 feet) in length.
Carlsbad Caverns National Park is one of the few places in the world where ongoing geologic processes are most apparent and rare speleothems continue to form, enabling scientists to study geological processes in a virtually undisturbed environment. These speleothems include helictites forming underwater, calcite and gypsum speleothems, and an astonishing collection of "biothems," cave formations assisted in their formation by bacteria.
But the wonders of Carlsbad Caverns National Park don't stop at its geological formations. The park is also home to a diverse array of wildlife, including 17 species of bats that roost inside the caverns. And if you're lucky, you might even spot a colony of Cave Swallows nesting just inside the cave entrance.
The park offers a variety of activities for visitors, including a self-guided tour of the caverns. These tours provide visitors with an up-close look at the stunning rock formations and wildlife that call the park home.
Plan your visit
I would recommend visitors to plan their visit in advance. Visitors to the cave can hike in on their own via the natural entrance or take an elevator from the visitor center. The entrance fee is $15 per individual and free for ages 15 and under. It's important to note that timed entry tickets are required to visit the cave. These tickets can only be purchased online at http://www.recreation.gov/, so advance planning is a must. The tickets are priced at $1 each, and they are not available in the park.