Yosemite National Park is located almost exactly due east of San Francisco. It's about a four-hour drive, making a San Francisco-to-Yosemite day trip possible but not really ideal. We highly recommend finding somewhere to stay near the park so you don't have to rush. It takes at least two days to properly see Yosemite National Park, so the best way to visit is to drive from San Francisco, check out the park in the afternoon, stay the night in one of the nearby lodges, and then spend the next day exploring the rest of the park. Yosemite is one of the most naturally beautiful places in the US, so you really don't want to rush through it.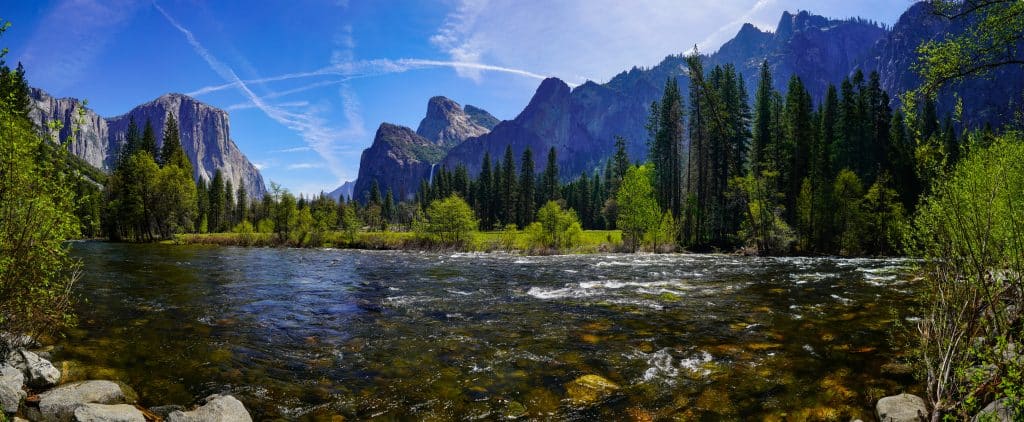 There are a couple of different routes you can take from San Francisco to Yosemite. The most direct path takes you through Oakland on Interstate 80 before pointing you due east on 580 East and State Route 120. If you get lucky with traffic, you can get to the park in about three and a half hours. However, we highly recommend getting off 580 East onto Highway 99 South, taking that road south to Merced, and then taking Highway 140 northeast to Yosemite. This route is a little bit longer but significantly more scenic, taking you through open ranch land, the cute little mining town of Mariposa, and finally along the banks of the Merced River. First-time visitors to the park should definitely consider taking the scenic route – it's only a little bit longer and it's a whole lot prettier.
However you get to Yosemite, make the most of your visit with our Self-Guided Yosemite Valley Floor Driving Tour. If you enjoy that tour and you're interested in trying some others, we also offer Action+, a subscription that grants unlimited access to all 100+ of our US tours for a full year.
Essential Travel Guide: