At night, Austin's nightlife scene buzzes with life, providing a variety of events, meals, entertainment, and hotspots to discover. Embrace the city's nocturnal charm and enjoy a memorable experience in the heart of its thriving nightlife by reading our guide below: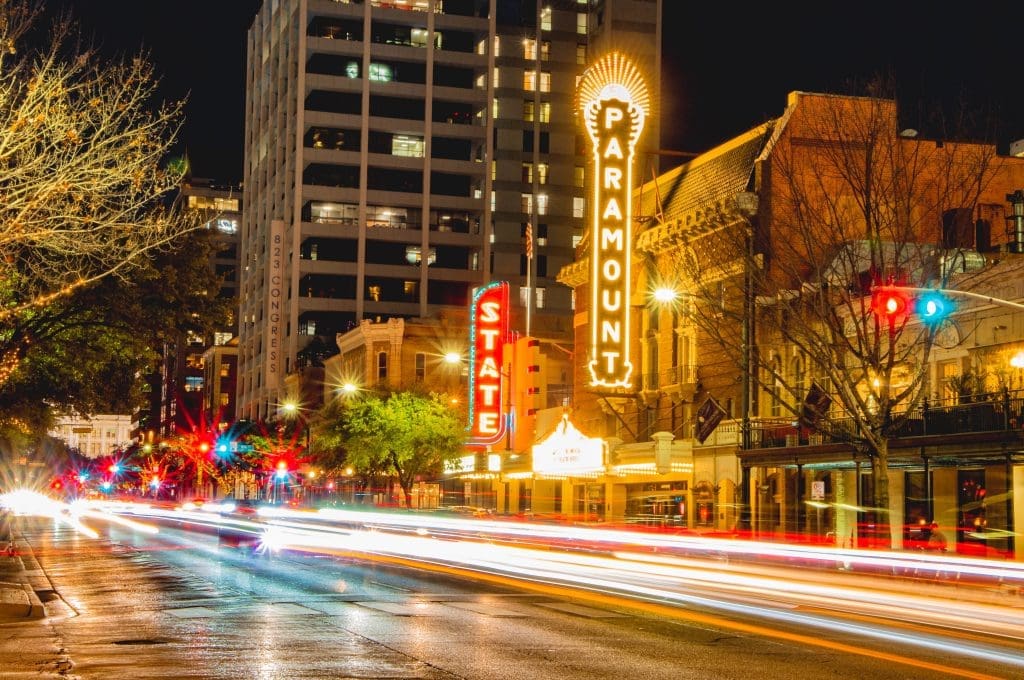 Begin your tour of Austin at Rainey Street. This district's historic homes-turned-bars, food trucks, and live music offer a distinctive and relaxed atmosphere. Navigate through this unique neighborhood and enjoy its character, creating a memorable start to your night out in Austin.
Next, steer your tour to downtown Austin, where a wide variety of chic cocktail lounges and rooftop bars await. As part of your self-guided driving tour Austin, plan a stop at Devil May Care for live jazz or drop by Seven Grand and Las Perlas to savor fine whiskeys and agave.
Film enthusiasts will find the Austin Film Society's AFS Cinema a must-visit stop on their tour of Austin. This theater showcases a thoughtful selection of foreign, classic, and modern arthouse films. Or, for a unique twist, visit the Alamo Drafthouse, which offers an array of movie experiences, from cult classics to interactive dance parties.
Your self-guided driving tour of Austin wouldn't be complete without experiencing the city's interactive nightlife. Test your trivia knowledge at Geeks Who Drink or Get It Gals' engaging bar trivia nights, or unleash your thrill-seeking side at Uncharted Adventures, where rage rooms and ax-throwing experiences await.
Step back in time at Union Underground or Highland Lanes for a retro bowling night, and don't miss Pinballz Arcade, a paradise for classic arcade games and pinball machines.
Use the Action Tour Guide as your companion to uncover hidden gems, indulge in the city's exciting spirit, and create memories that will last a lifetime. Austin's nightlife scene awaits you, ready to make your tour a memorable journey into the heart of Texan nighttime entertainment.