When it comes to enjoying the glorious Texan sunshine and immersing yourself in the great outdoors, there's no better place than Austin, Texas. Fondly known as ATX, this vibrant city offers a plethora of open-air activities that cater to all interests and ages. From delightful rooftop bars, patio brunching, and food trucks that form an essential part of daily life here, to thrilling adventures and sightseeing opportunities, Austin has it all.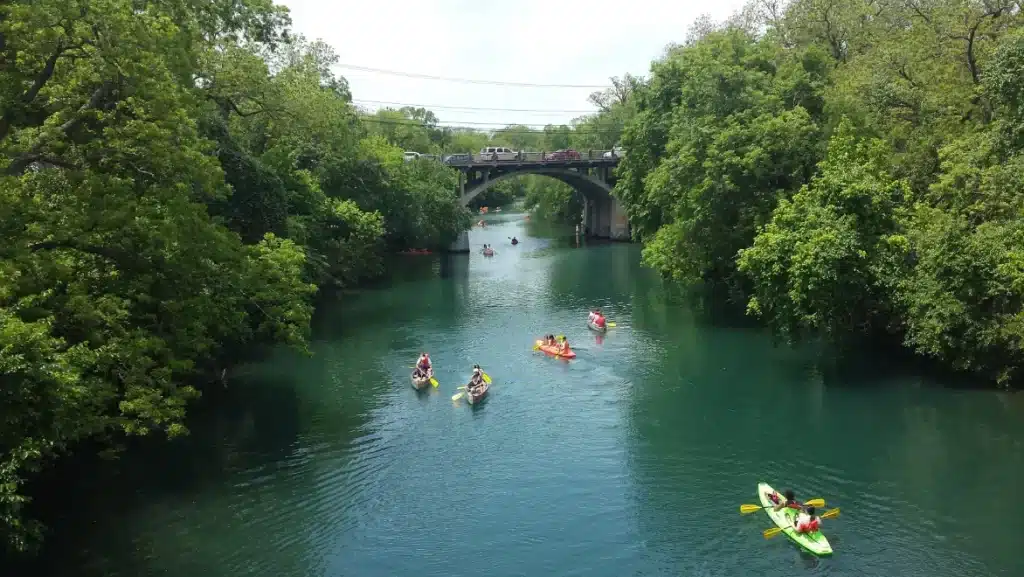 For those seeking a unique and nostalgic experience, a visit to the Blue Starlite Mini Urban Drive-In movie theater is a must. This one-of-a-kind boutique drive-in theater showcases childhood favorites, cult classics, indie gems, and art-house films – a driving tour of Austin's film nostalgia. With double features on select evenings and a limited capacity for 15-40 cars per event, it's an ideal spot for a special date night or a fun outing with friends. Plus, being a BYOB venue adds to the overall charm and excitement.
For water enthusiasts, Lady Bird Lake is a centerpiece of Austin's natural wonders. Capital Cruises offers a fantastic opportunity to explore the lake with kayak, stand-up paddleboard, or even a swan paddleboat rental. As you paddle along the water, you'll be treated to breathtaking views of the city skyline and the serene beauty of Barton Creek.
Speaking of Barton Creek, the Barton Springs Pool is an outdoor gem that promises a great time, even on colder days. The pool's year-round average water temperature of 68 degrees makes it an inviting spot for a refreshing swim. However, for a truly Austinite experience, make sure to join the Barton Springs' monthly Full Moon Swim – a driving tour of Austin's lunar festivities. This event takes place on the night of each month's first full moon and offers a magical and howlingly fun lunar party.
If you're looking to add some adrenaline to your outdoor escapades, head over to Lake Travis Zipline Adventures. This thrilling tour allows you to soar across the lake and the hill country on five different ziplines, varying in length from 250 to 2800 feet. For an extra touch of excitement, consider the "Night Flight" tour for a unique ziplining experience under the moonlit sky.
As the Live Music Capital of Texas, Austin lives up to its reputation with a myriad of outdoor music events. The Austin City Limits Music Festival, held at Zilker Park, is a highlight not to be missed. With over 130 bands and a massive audience of 225,000 fans from around the world, this two-weekend festival in October is a celebration of music, art, and camaraderie. Another cherished event is KGSR's Blues on the Green, a summer concert series that showcases local artists over four magical nights at Zilker Park – a summer music fiesta.
In conclusion, Austin is undeniably one of the best places in Texas for sun-soaked adventures. Whether you're dining at rooftop bars, hiking through picturesque trails, enjoying music festivals, or simply embracing the beautiful natural wonders, ATX has something for everyone. So, slip on your comfy shoes or swimsuit, and immerse yourself in the vibrant outdoor scene of Austin, where unforgettable experiences await at every turn.