Iceland is full of natural beauty and if you do have a multi-day itinerary, I recommend including the Golden Circle as well. The Golden Circle tour in Iceland is a scenic circular loop that starts and ends in Reykjavik or the airport area. It covers three natural attractions: Thingvellir National Park, the Geysir geothermal area, Gullfoss waterfall and Kerid Crater.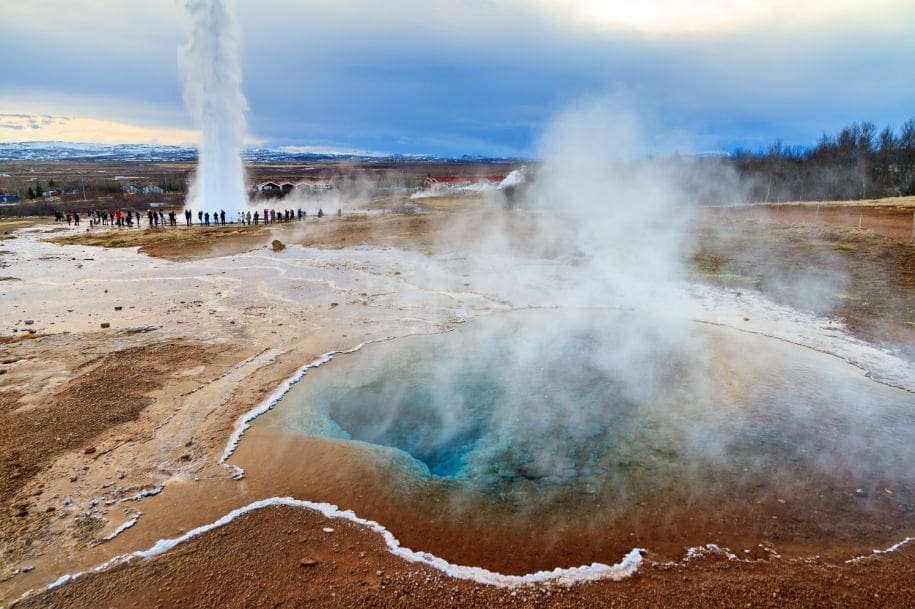 The landscapes of Thingvellir National Park create a beautiful and rare scenery. The stunning Gullfoss waterfall bedazzles on average more than 2000 people per day. The popularity and attraction of the 'Golden Waterfall' lie in its unusual, cascading shape and in its being extremely photogenic from every angle and in every season. Equally popular but significantly higher in temperature is the water in the geothermal area in Haukadalur. This is one of the very few places on earth, where one can closely observe active geysers. Kerid, is a volcanic crater lake located in the Grímsnes area in south Iceland, along the Golden Circle. It is one of several crater lakes in the area, known as Iceland's Western Volcanic Zone, which includes the Reykjanes peninsula and the Langjökull Glacier.
Besides these, the Golden Circle is full of big and small highlights and can be extended at will. However, the area itself is steeped in history and there is no better way to learn about it than on the self-guided driving tour of Iceland. The tour also includes the fascinating history of the Vikings and as you drive along you will hear all about the Vikings and their marvelous (see what I did there) gods – Odin, Thor & Loki.
I recommend renting a car and you can choose from many – Avis, Budget, Europcar, Hertz, Sixt,- to explore the Golden Circle at your own pace.
In conclusion, the Golden Circle tour of Iceland is definitely worth it due to its easy accessibility, availability of rental cars, and all the different sights you can see on the drive.